Uttar Pradesh parks , monuments and statues are historical in nature for the future will remember what the SC/ST/OBC icons have done to the society as we find only non SC/ST/OBC icons all over the country. What better use for the sarvajan could be there than these. No other parties even imagined to create history than this.
29 02 2012 LESSON 539 The Dhammapada Verses and Stories Dhammapada Verse 85 and 86 Dhammassavana Vatthu A Few Reach The Other Shore Those Who Follow The Dhamma Are Liberated
FREE

ONLINE e

N

ālan

d

ā

Research

&

Practice

UNIVERSITY

&

BUDDHIST

GOOD

NEWS

LETTER

Through

:http://sarvajan.ambedkar.org





THE BUDDHIST ON LINE GOOD NEWS LETTER




COURSE PROGRAM




LESSONS 539
Practice a Sutta a Day Keeps Dukkha Away
The Caravan of Phule-Shahu-Ambedkar-Kanshiram is successfully taken ahead by Bahen Mayawati Ji all over India. Plz support national and state leadership of this movement elements to reach our ultimate goal. Don't get carried away with different banners in Maharashtra and other parts. We have to follow our leader Bahenji and her appointed state local leaders.Victory is ours. Have faith in capturing political Master Key and make PraBuddha Bharath. JaiBheem! Jai Kanshiram! –DR. Rahul BSP
Verse 85. A Few Reach The Other Shore

Among folk they are few
who go to the Further Shore,
most among humanity
scurry on this hither shore.

Explanation: Of those who wish to cross over to the other side only a handful are successful. Those others who are left behind keep running along this shore. Those masses who have not been able to reach liberation continue to be caught up in Samsara.
Verse 86. Those Who Follow The Dhamma Are Liberated

But they who practise Dhamma
according to Dhamma well-told,
from Death's Domain hard to leave
they'll cross to the Further Shore.

Explanation: The realms over which Mara has sway, are difficult to be crossed. Only those who quite righteously follow the way indicated in the well-articulated Teachings of the Buddha, will be able to cross these realms that are so difficult to cross.




Dhammapada Verses 85 and 86
Dhammassavana Vatthu

Appaka te manussesu
ye jana paragamino
athayam itara paja
tiramevanudhavati1

Ye ca kho sammadakkhate
dhamme dhammanuvattino
te jana paramessanti2
maccudheyyam3 suduttaram.

Verse 85: Few among men reach the other shore (Nibbana); all the others only run up and down on this shore.

Verse 86: But those who practise according to the well-expounded Dhamma will reach the other shore (Nibbana), having passed the realm of Death (i.e., samsara), very difficult as it is to cross.

---

1. tiramevanudhavati: tiram + eva + anudhavati: shore + only this + run up and down: according to the Commentary 'only this shore' in this context means sakkayaditthi (ego belief).

2. paramessanti: param + essanti: the other shore + will reach. The other or opposite shore is metaphorically used for Nibbana.

3. maccudheyyam: the realm of Death (or samsara, round of rebirths).

---

The Story of Dhamma Listeners

While residing at the Jetavana monastery, the Buddha uttered Verses (85) and (86) of this book, with reference to a congregation of people who had come to listen to a religious discourse in Savatthi.

On one occasion, a group of people from Savatthi made special offerings to the bhikkhus collectively and they arranged for some bhikkhus to deliver discourses throughout the night, in their locality. Many in the audience could not sit up the whole night and they returned to their homes early; some sat through the night, but most of the time they were drowsy and half-asleep. There were only a few who listened attentively to the discourses.

At dawn, when the bhikkhus told the Buddha about what happened the previous night, he replied, "Most people are attached to this world; only a very few reach the other shore (Nibbana)."

Then the Buddha spoke in verse as follows:

Verse 85: Few among men reach the other shore (Nibbana); all the others only run up and down on this shore.

Verse 86: But those who practise according to the well-expounded Dhamma will reach the other shore (Nibbana), having passed the realm of Death (i.e., samsara), very difficult as it is to cross.
BROAD MINDED PEOPLE OF UP!
WILL GIVE SEATS THREE HUNDRED AND THREE!
according to
FREE
ONLINE
e
N
ā
l
a
n
d
ā
Research
&
Practice
UNIVERSITY!
Voting starts in 6th phase of UP elections
Polling in Noida, Dadri and Jewar assembly seats in Gautam Budhh Nagar was going on peacefully.
In Chief Minister Mayawati's native Badalpur village, farmers had lined up to cast their vote. BSP has fielded Satvir Gujjar sitting MLA from here .
In Noida, which has become an assembly seat for the first time, residents seemed enthusiastic. Earlier Noida was part of Dadri assembly seat and rural voters used to decide the winning pattern here.
Polling is underway in assembly seats in Saharanpur, Prabuddha Nagar, Meerut, Bagpath, Ghaziabad, Panchsheel Nagar, Gautam Buddha Nagar, Bulandshahr, Aligarh, Muzaffarnagar, Mathura, Mahamayanagar and Agra.
Polling is underway in assembly seats in Saharanpur, Prabuddha Nagar, Meerut, Bagpath, Ghaziabad, Panchsheel Nagar, Gautam Buddha Nagar, Bulandshahr, Aligarh, Muzaffarnagar, Mathura, Mahamayanagar and Agra.
More than 2.17 crore voters are expected to cast their votes to decide the fate of 1103 candidates, including 86 women.
The CEO said that polling was being held at 22,137 polling stations at 12181 centres, of which 3188 centres and 4892 stations have been marked as sensitive.
To keep a tight vigil on polling process, 1015 video cameras and 2353 digital cameras have been installed.
In the 2007 assembly polls, 46.58 per cent votes were polled for 67 seats of which BSP got 35,Now it will win 51 seats.
60 per cent turnout in 6th round of UP poll
Uttar Pradesh Chief Minister Mayawati
UP elections: I hold master key to power, thunders Mayawati
Bahujan Samaj Party

(BSP) chief called upon SC/STs along with the Sarvajan Samaj to vote for her if they wanted a Scheduled Caste to remain at the helm of affairs.
"If you vote for the Congress, all the poor and unemployed would have to go to other states to earn their livelihood."
A victory of the

Samajwadi Party

in the ongoing assembly elections would only usher in "goonda, badmash and mafia-run jungle raj", she warned.
"The state under BSP has been free of communal tensions and people have lived in amity," she said, referring to the five years since 2007 when the BSP took power on its own.
She accused the Congress-led central government of creating hurdles in Uttar Pradesh's development.

"The high court benches in Meerut and Agra have to be cleared by the centre. Many of our financial problems are the result of centre's lack of support," Mayawati charged.
"If you want a Scheduled Caste ki beti (SC's daughter) as your chief minister again, vote for the BSP."
And she added to thunderous applause: "Today I hold the master key to power."
Mayawati said the BSP did not believe in election manifestos.
She warned that small shopkeepers and businessmen would be without work if the Congress allowed foreign direct investment in retail sector.
Chief Minister and BSP Supremo Mayawati has alleged that the Congress is responsible for backwardness of UP. She wondered how the party could change the face of the state in five years, when it had done nothing during its long rule at the Centre. Most of the time, it was the Nehru-Gandhi family which had ruled the country, she said adding, "When they could not do anything during this period, how can they develop the state in five years."
Mayawati confident of winning more seats
Mayawati calls Ajit Singh opportunist





Mayawati has targeted Rashtriya Lok Dal president Chaudhury Ajit Singh and said that he believed in the politics of opportunity.

LUCKNOW: Addressing an election rally here on Thursday, chief minister Mayawati stated that Rashtriya Lok Dal president Chaudhury Ajit Singh believed in the politics of opportunity. Using the same tool, she said, he always stays close to power quarters. In this way, he neglected the interest of the farmers whom Ajit Singh claims to represent. "He showed the dream of Harit Pradesh but has failed to bring development in the area," she said adding that the party is out to cheat the people once again which stands proved in their alliance with the Congress Party.

The rally was held in Baghpat and Panchsheelnagar. Targetting the congress Party she said, "Poverty, inflation and unemployment have reached their maximum under the reign of Congress at the center. It is also responsible for poor state of affairs in UP where they ruled for 40 years." Stating that Congress party's policy was chiefly responsible for problems being faced by the common man she said it was essential to keep them away from power. Citing the example of UPA's
policy for foreign direct investment, "the FDI would make survival of small-scale industries, businessmen and entrepreneurs' difficult."

Mayawati said that BSP was the only party which made 'serious' efforts to bring real development of Western UP. However, many projects failed because of the centre held back a long due Rs 80,000 crore development package for the state. Accusing the Congress of being corrupt, Mayawati said the party was involved in scams worth Rs.20 lakh crore. Enumerating another achievement, she said that UP government paid cane purchase price which was two times of what the other states paid. She added that introduction of a new land acquisition policy was also yet another important decision taken by her government to ensure the well being of the farmers. She also lauded herself for creating more districts and proposing division of UP into smaller states to promote faster growth.

The CM alleged that Samajwadi Party (SP) was a party of goons. "During their rule, the poor were oppressed and women were afraid to come out of their houses after dark," she said. Describing the BJP as a communal party, Mayawati said her government deserved credit for maintaining law and order in the wake of the high court verdict on the Babri Masjid issue. She didn't even spare the Election Commission. She alleged the poll panel was biased towards the Congress. This becameapparent from its order to cover the elephants - the symbol of the BSP, she alleged. The symbols of all other parties were spared, she said.




One percent of the total budget of UP was spent for creating history for SC/ST/ OBC icons by build ing monuments, statues and parks, while crores of money are spent on non SC/ST/OBC personals' monuments, statues and parks

all over the country and also for their maintanance. SP should question Congress and BJP for this.

Mayawati blamed all the opposition parties for neglecting the Bundelkhand region. She said that the BSP government had demanded a package of Rs 80,000 crore from the Centre for all-round development of the region, but the latter did not sanction even a single paisa. In this package an amount of Rs 11,000 crore were for the construction of roads, development of health facilities and improving agriculture in Bundelkhand region, she added.

"Whatever the Congress leaders are saying about development of Bundelkhand region is nothing but a 'political drama'. This is a fact that Bundelkhand is a backward. It remained backward because the Congress party, which ruled the state for more than four decades, did nothing for its development and now its leaders are shedding crocodile tears over the plight of its inhabitants," she alleged.

The BSP government with its meagre resources and without getting any financial assistance from the Centre tried to remove backward of Bundelkhand, she claimed.

Blaming the Congress for starting 'corruption culture' in the country, the BSP chief has alleged that the maximum black money in foreign banks was that of Congress leaders.





Chief minister Mayawati on Saturday wrote a letter to the prime minister regarding release of Centre's share under Right to Education Act.

It was pointed out in the letter that the ministry of Union HRD had approved Rs 9,408.05 crore as annual scheme for 'Sarva Shiksha Abhiyan' for 2011-12. Out of the Centre's share is about 4,969.05 crore, but only Rs 2,452.68 crore has so far been made available to the state.

Centre is giving stepmotherly treatment to the BSP government in UP. "The Centre is not making available funds to the state. The Centre's share for repair and strengthening of national highways to other states has already been released by the UPA government, but the same have not been made available to the UP government till date. Similarly, the centre has not released the amount for completing several ambitious schemes of the BSP government.

Uttar Pradesh Chief Minister Mayawati today accused the Congress-led UPA government at the Centre of "starving the state of much needed central funds" for different development projects.

Mayawati said had the centre conceded to the state government's repeated pleas for funds, the state of UP would have been marching ahead in different fields.

Refuting the allegation of corruption against her party's government in Uttar Pradesh, the Chief Minister said, "in the last Assembly elections, a number of infiltrators had managed to sneak into our party and get elected.





"Some of them became ministers. When we detected their wrong doings we immediately removed them from their respective posts", she said.



Taking a dig at the Bhartiya Janata Party, Mayawati said, "When we removed certain corrupt elements from our party, other parties who championed the cause of honesty accepted them with open arms".

Mayawati said, "the Bhartiya Janata Party has no moral right to speak of corruption after the track record of their party's government in Karnataka has come before the country

.



The track record of the NDA government which ruled in the centre for about seven years also reflects the BJP's fickle commitment to the cause of fighting corruption", she said.



Hitting out at the UPA government, the Chief Minister said, "the UPA government's numerous scandals just in the past three years should expose the true face of the Congress Party on the issue of corruption".



Referring to the reservation issue and the Congress Party's "ambivalent stand" on the matter, the Chief Minister said, "by indiscriminately adding other groups to the OBC list, the Congress Party is depriving the existing beneficiaries in the quota list".

The Chief Minister said, "By promising 9 per cent reservation to Muslims in government jobs, the Congress Party is trying to trick both the Muslims and the other OBC groups who are already in the quota ambit".




BSP Govt provides hot meals for school children through computerised free sms service to the parents for feedback.Now this is followed through out the country.





It is the Congress, BJP and SP that is dividing the people in the name of Caste and religion which was united by BSP through Sarvajan Hithay Sarvajan Sukhay i.e., for peace, welfare and happiness of the entire people policy for equality, social transformation and economic emancipation. Whereas Congress, BJP and SP never talk about equality, bu believe in divide and rule policy.





The Chief Minister said that the state has done more for farmers during the past five years than had ever been done by governments who claimed to champion the cause of the farmers.





She cited the example of "doubling of the minimum purchase price for sugarcane in the state" during her tenure.





The Chief Minister said that her party was determined to maintain communal peace and harmony in the state. This was reflected by the manner in which her government succeeded in maintaining peace in Uttar Pradesh in the aftermath of the declaration of the High Court case on the explosive Babri Masjid-Ram Janambhhomi Issue.



Referring to the slow pace of development in some sectors in the state, she said, "Our target is to provide 24-hour electricity per day if we are given further chance to serve the state and if the Centre cooperates with us".
She said that the Centre had been very stingy in releasing funds for the state and "whatever development has taken place in UP during the past five years has been achieved with our own meagre resources and in some cases with the help of private sector".
Uttar Pradesh Chief Minister Mayawati on Monday attacked the Congress on the issue of corruption asking why the party was not uttering a single word on graft and price rise.
"The Congress is not uttering a word on corruption and price rise in its regime. If you all made a mistake while exercising franchise, you all have to face life of insult and hooliganism," she said while addressing an election meeting.
Attacking the Congress for defaming her government on the issue of corruption, Mayawati alleged 62 scams of Rs 20 lakh crore took place in the Congress-led government at the Centre.
But a scam worth thousands of crores like 2G is different.

Congress's support was scattered, organization weak. This wouldn't help the party.
Congress spoilt it by bringing in Muslim quota and going back to caste and community politics
Promising to provide 24-hour electricity, Mayawati said contrary to Oppositions' claim, BSP would get absolute majority in the state.
Uttar Pradesh Chief Minister Mayawati today rubbished media surveys that projected BSP to be in bad position in the Assembly polls and reminded voters that her party had got majority in 2007 despite similar predictions.


"I want to tell the people that the surveys being shown on TV channels
and in the media are showing BSP winning only a few seats.
They should
not be misled by these as in the 2007 polls too, BSP was not shown in surveys, yet we formed government with absolute majority," the BSP supremo said.


At an election rally here, she said,
"We will prove all such claims by
the media as wrong this time as well and achieve absolute majority," he said.
"When the Election Commission ordered draping of statues of elephants in the state, the media kept showing it for 15 days thinking that we will get negative publicity. Instead, we got very good publicity free of cost," she said.

More than anything else, this has helped in the party's symbol being
recognised all over the country, she said.
A BSP worker taunts media: "Have you seen such support for any leader? But you will write about Rahul Gandhi, not her."


Referring to Congress leader Rahul Gandhi's remark that he had a lot of respect for Kanshi Ram, she posed, "Where did all this go when he died and the central government did not even declare a holiday. Our community will never forgive the Centre for this."
She said that in spite of "limited resources" from the Centre, her government had helped the SC/ST, backward and very backward sections to progress.
Congress is bracing for the possibility of defeat in Uttar Pradesh.
Congress and Rahul Gandhi are getting in ahead of the game to reposition the narrative since the Congress will fare considerably worse than expected.
He appeared to concede that with such a performance – that will come about – will not be enough for the Congresss to secure a large enough chunk of Assembly seats.
According to Rahul Gandhi, the electoral arithmetic of UP dictate that only when a party secures in excess of 20 percent of the popular vote will it translate into substantial representation in terms of Assembly seats.
He now argues that his effort is to revive the Congress in UP over eight to 10 years.
Congress will fare badly and it will be construed as a personal defeat for Rahul Gandhi, who has invested far more of his time and energy in this campaign than any central-level Congress leader has in any previous elections in UP. Doubts will increasingly be raised about his ability to be a "game-changer" for the party
.
Just as important, a poor verdict for the Congress in UP will render the

Manmohan Singh

government even more of a lame duck than it is currently.
Mayawati said the

Election Commission

had hurt the feelings of SC/STs by ordering the covering up of elephant statues across Uttar Pradesh because the animal was the election symbol of her party.
And in a mocking tone, she thanked the media for giving the elephants and her party so much publicity for free.
Ask people why I am confident, says Mayawati
Uttar Pradesh Chief Minister Mayawati has claimed that her government has done more for the state than the Congress, the Samajwadi Party (SP) and the Bharatiya Janata Party (BJP) put together.
Bahujan Samaj Party (BSP) supremo has said that she is asking for votes in the assembly elections on the issue of development.
(Uttar Pradesh chief minister and BSP supremo Mayawati addresses an election rally in Rai Bareilly.)
Bahujan Samaj Party
A crowd listens to Bahujan Samaj Party (BSP) President and
Uttar Pradesh
Chief Minister
Mayawati
during a rally in Gorakhpur, Uttar Pradesh state, on February 6, 2012. With Uttar Pradesh going to the first phase of the Assembly polls on February 8, key...
I, Me and My party:
Terming the Congress as anti-SC/ST, Mayawati said
only her party can ensure that 'people from all communities are on their feet'.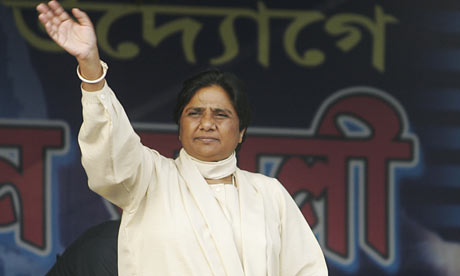 Chief minister Mayawati Kumari.


Uttar Pradesh Chief Minister Mayawati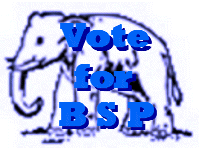 A BSP supporter wore a hat bearing the BSP party symbol and Ms. Mayawati's poster during a rally in Lucknow, March 15, 2010.
Bahujan Samaj Party will form the government this election, but with a thumping majority.
NOTE-1-Since the formation, in 1995 of the first government of Hon'ble Chief
Minister Ms. Mayawati Ji in Uttar Pradesh, its priority has been the
total
development of the poor and the backward SC/ST, other backward
classes,
Religious minorities and disables persons-who had remained neglected
for
centuries and during earlier governments. By separately creating
Uttar
Pradesh Welfare Department and other ministries, there has been
considerable improvements in their condition at every level and
\ every sphere.
1.
This government in the last four years has undertaken several activities at
a total cost of Rs. 37,000 crore (Rs. 36,795 crore), outlay of
21.21
and 100% expenditure on the development of "SC/ST" under special
component plan which are chiefly – increase in the rate of post
matric for
(Scheduled Castes), eligibility level of income increased from
1lakh to
Rs.2 lakh,, scholarships fora all students (girls and boys) from
class 1 to 8,
establishment of 'bhagidari bhavan' at Lucknow and Agra,
including
Training institutes at Aligarh and Rae Bareli to coach SC/ST
youth for
recruitment to high-level services like I.A.S and P.C.S;
recruitment in
Government posts through a drive to clear the backlog; for the
first time
Reservation in contracts upto Rs.25 lakh for SC/ST, so far,
contracts worth
Rs.1,623 crore allotted; about 4 lakh S/C families allotted more
Than 3,500 hectares of land.; 16 Mahamaya Polytechnics for
Information
Technology set up for these categories of students;
regularisation of
Landless SC/ST people in possession of gram sabah land
upto13May,
2007;
formal right of
possession letters (pattas) awarded to 9,431
persons; about 3000 genuine lease-holders benefited by removing
illegal
usurpers from their land; creation of employment totalling 5,945
lakh man-
days for men and 2,089 lakh for women belonging to SC/ST classes
created in rural areas; about 8 lakh S/C families benefited by
writing-off
debts amounting to Rs.120.28 crore of Uttar Pradesh SC/ST
Development Corporation; electrification on large-scale of SC/ST
bustees
/majras and appointment of 23% from these classes only of SOs in
police
stations; provision of reservation also in state
government-aided private
enterprises; allotment of more than 4,000 fair price shops;
together with
the establishment of a Rs.100 crore
"leather park and shoe mandi":
in
Agra, exemption from VAT
of Agra Footwear Industry.
2.
"Other Backward Classes"
– in the last four years 2 lakh landless people allotted lease of about 50,000 hectares of agricultural land;
effective
implementation of 27% reservation for OBSc in the allotment of
fair price
shops in the urban and rural areas under the public distribution
system;
computerisation of the entire procedure of scholarship under
the
backward classes Welfare department; more than 50 lakh students
(girls
and boys) benefites by scholarships under the scheme of aid to
the poor
families of backward classes on account of marriage and illness
about
Rs.50 crore spent every year; apart from increasing the
"creamy layer"
annual income limit of these classes from Rs.3 lakh Rs.5lakh,
about
Rs.250 crore spent to reimburse the admission fees of students
studying
in post matric classes
3.
In the matter of
Religious Minorities especially the Muslim community,
mention may be made of the establishment of Manyawar Shri
Kanshiram
Ji Urdu, Arabic-Persian University; inclusion of 10 new
Arabic-Persian
Madrasas in the grant-in-aid list; as much as 486.73 crore
approx, on
account of scholarships to 1,28,35,824 minority students (girls
and boys);
elegibilty income limit for scholarships increased to Rs.1 lakh
in respect of
, minority students; grant of Rs. 3,745 lakh for the marriage of
37,445
daughters from minority BPL families; reimbursement of fees
amounting
to Rs.2,049 lakh of 49,166 post matric students; construction of
well-
equipped
"Haj Houses"
at
Ghaziabad and Lucknow for the convenience of
the Hajis; "
direct Haj
flight" from Varanasi to Jeddah
; abolition of the
pre-condition of police verification in the appointment of
"Mutawallis";
arrangement of advance coaching to prepare for competitive
recruitment
examinations; the amount of grant for Uttar Pradesh Urdu Academy
more
than doubled to Rs.3 crore
; establishment of
58 government secondary
schools
in minority-dominated areas of 22 selected districts as well as mformation of a commission to provide the atatus of minority
institution to
'taleemi idaar' (educational institutions) besides, the
distribution of
Manyawar Shri Kanshiram Ji Handloom Weavers awards.
4.
"Disabled"
– establishment of
'Uttar Pradeesh Dr. Shakuntala Misra
Rehabilation University'
at a cost of Rs.400 crore to provide quality
education to the differently-abled students; with 1% reservation
for the
visually impaired and 2% other disabled, so far, 677 an
d
1320fair shops
allotted, respectively; disabled pension rate increased to
Rs.300 per
month from Rs.150- the total number of disabled pensioner
during
2009-10 increased to 708077.
5.
Several welfare schemes implemented for Sarv-Samaj
"women"
also,
notable being amendment of the zamindari kanoon to ensure
equitable
share of women in patriarchal landed property; the amount of
dole for
destitute women increased to Rs.300 per month from Rs.150 apart
from
construction of shelter homes etc for them in Mathurs and
Vrindavan;
"alertness and sensitivity"
on the part of government has resulted in
considerable
"decline"
of criminal cases against "women".
NOTE-II- In addition, many significant and historic steps wre taken for the
uplift of the poor and the helpless belonging to sarv-samaj besides,
Farmers, labourers, lawyers, employees, traders and people engaged
in
other professions, with all government departments also contributing
to the
development of the people of the state viz.:
1.
Uttar Pradesh Mukhyamantri Mahamaya Gharib Arthik Madad
Yojna benefits about 31 lakh families in Uttar Pradeshwhich have not been able to avail of the benefits of the BPL list or antyodaya, by providing an assistance of Rs.400 per month.
2.
Savitribai Phule Shiksha Madad Yojna
benefitted a total of 6,86,953 girl students, so far, with Rs.15,000 and a bicycle given to class 10 students and an additional assistance of Rs.10,000 on promotion to class 12.
3.
Mahamaya Gharib Balika Ashirwad Yojna
provides for Rs.1lakh to be given to the girl child immediately on birth, which has benefitted about 3,25,000 girl children.
4.
Dr. Ambedkar Gram Sabha Samagra Vikas
Yojna benefitted abount 5,598 gram sabhas.
5.
Manyawar Shri Kanshiram Ji Sheri Gharib Awas Yojna
provides for free housing facilities, benefiting about 1lakh families.
6.
Sarvjan Hitay Gharib Awas (Slum Area) Maliqana Haq Yojna
benefited about 7,232 families.
7.
BPL card-holders of Sarv-samaj and beneficiaries of Mahamaya Gharib Arthik Madad Yojna
being provided free of charge legal aid by government lawyers to plead their cases in courts.
8.
Under
Manyawar Shri Kanshiram Ji Sheri SC/ST Bssti Samagra Vikas Yojna,
250 bustees selected for development.
9.
Lease-hold of 55,000 hectares of agricultural land for about 2.5 lakh poor and unemployed landless people.
10.
About
"3.5 lakh families"
allotted residential plots measuring 3,500 hectares.
11.
Allotment of 30,000 hectares of land to about 36,000 agriculturists.
12.
16,000 sites allotted to 19,000 people engaged in the pottery craft.
13.
Allotment of 12,000 hectares of land for free plantation to 42,000 farmers.
14.
Insurance provided to 18,67,835 heads of families under the General Public Insurance Scheme.
15.
Under the
enforced Uttar Oradesh Janhit Guarantee Quanoon
13 essential services relating to revenue, urban development, medical and food and supply guaranteed within a specified time limit.
16.
Brilliant BPL students (girls and boys) of the newly established Gautam Buddha University belonging to sarv-samaj sent to Europe for higher studies on state expenses.
17.
The maximum sickness allowance increased from Rs.2,000 to 5,000 in the case of S/S and those eligible from the general category.
18.
The amount of grant-in-aid doubled in the event of marriage/sickness in Bundelkhand.
19.
As many as 897 child development projects under operation.
20.
Daily wages of
"labourers/wage earners"
of unorganised sector increased to Rs.100 from Rs.58.
21.
More than 18 lakh government employees in the state provided benefit of the sixth pay commission, causing an additional financial burden of Rs.21,000 crore.
22.
As many as 35,000 daily wage employees, appointed till 29 June, 1991 regularised.
23.
Generation of 10,586 lakh man days in the rural areas at a cost of Rs. 16,995 crore.
24.
Self-employment made available to 13.58 lakh families with a grant of Rs.800 crore.
25.
Recruitment of 1.9 lakh 'safai-workers (Aroghya Rakshaks)" in the state in one go besides, 88,000 primary school teachers, 5,000 Urdu teachers and massive recruitment in other departments together with employment opportunities provided to
"lakhs"
of people in non-governmental sectors as well.
26.
Infrastructural Development:
construction of 165 Km long, 6-lane Yamuna express-way at a cost of Rs. 9,935 crore between Noida and Agra.
27.
Rs
.
30,000 crore –construction project of 1,047 Km long, 8-lane entry controlled express-way from Greater Noida to Ballia.
28.
Costing Rs. 8,911 crore, 148-km long Sanauta-Purkazi Express-way project along the upper Ganga canal bank.
29.
In the Taj city, Agra, construction of a 20.5 km long 6-lane ring road at a cost of Rs.1,100 crore.
30.
Delhi-Noida-Greater Noida Metro Rail Link, first phase, from Delhi to Noida completed.
31.
PPP process activated to establish ab international airport at Kushinagar for the development of Buddhist circuit.
32.
Energy development;
with an amount of Rs. 28,796 crore incurred by the government led by the Hon'ble Chief Minister Ms. Mayawati Ji, a "
new trust
" born among the general public to meet its electricity needs, during its four-year term,; the government seriously engaged at the ground level about its promise to offer 24-hourelectricity by 2014, Begining of about 30,000 MW new projects. Investment of Rs. 1,20,000 crore. In the field of transmission, thye largest ever investment of Rs.10,000 crore through PPP in the country.
33.
Road construction –
construction/reconstruction of more than 50,000 km long roads with an expenditure of about Rs.9000 crore.
34.
About 13,000 km long CC roads and KC drains constructed in 5,480 gram sabhas/villages at a cost of Rs. 3,569 crore.
35.
Construction of 319 bridges at a cost of Rs.1,369 crore as well as 16 over-bridges, entailinf an expenditure of Rs.363crore.
36.
Irrigation –
Strengthening of irrigation works/activities at a cost of Rs.22,097 crore.
37.
Additional irrigation capacity of about 1.5 lakh hectares generated with the construction of 2,975 tube wells.
38.
Tail-feeding of more than 9,000 canals ensured.
39.
Irrigation arrangement of 32 lakh hectares of land
.
40.
Agriculture and Allied services –
about Rs. 19,50 crore spent in the last four years.
41.
Drive to bouble the income of the farmers.
42.
Weather-based crop insurance scheme started.
43.
Rain water storage project in Bundelkhand.
44.
Unprecedented increase in sugarcane price (SAP).
45.
Uttar Pradesh tops the country in milk production.
46.
Dr.Ambedkar Agricultural Improvement Scheme of feeder separation for uninterrupted power supply to farmers.
47.
Establishment of new agricultural university in Banda.
48.
Education and Sports Development –
about 65,000 crore (Rs.64,997 Crore) were spent on account of education in the last four years.
49.
As many as 12,160 new senior primary schools and 4,654 new primary schools established
50.
13 private universities established.
51.
Manyawar Shri Kanshiram Ji Research Chair established in 6 universities.
52.
As many as 41 new government polytechnics
set up.
53.
In Gautambuddha Nagar, a second technical university established under the name of Mahamaya Technical University.
54.
Commencement of 'Manyawar Shri Kanshiram Ji Kala Samman Puraskar' and Sant Ravidas Kala Samman Puraskar'
.
55.
Medical and Health services –
About 22,000 crore (Rs 22,190 crore) spent in the last four years.
56.
Decision to operate medical colleges in Kannauj, Jalaun and Saharanpur districts as wellas a para-medical college in Jhansi.
57.
Decision to open state of the art super specialty 500-bed hospital with participation of private sector, costing around 140-150 crore each in Lucknow, Agra, Jalaun, Bijnur, Azamgarh, Ambedkar Nagar. And Saharanpur.
58.
For the first time in the country a separate unani directorate established by
Uttar Pradesh.
59.
Urban Development –
About Rs.13,156 crore spent on account of housing and urban development as wellas Rs. 4,090 crore spent on hygene and cleanliness schemes.
60.
Projects worth about Rs.8,000 crore completed in Kanpur, Lucknow, Agra, Varanasi, Meerut, Allahabad and Mathura on development of urban infrastructural facilities and providing housing to the poor besides, fulfilling their basic needs.
61.
Provision of about Rs.1,000 crore for drinking water projects in 7 metropolitan towns. Completion of projects of Rs.400 crore in other 37 towns and plying of 1,310 modern buses started.
62.
Implementation of solid waste management schemes in 26 cities.
In additionto the above, the government has, through other departments , taken several important and notable decisions, a detailed account of which is given in a government published listing its achievements of four years.
In order to see for herself the ground reality of the activities stated in the booklet, the Hon'ble Chief Minister, Ms Mayawati Ji, from 1st February, 2011 to 2nd
March 2011 i.e., for full one month, made surprise inspections to take stock of law and order situation and creime control in all the 72 districts, together with development and public welfare activities, with strict action taken against authorities, if anything wanting was detected. Necessary directions and guidance for improvement were also given.
In a nutshell, the four years of the Uttar Pradesh Chief Minister Hon'ble Ms Mayawati Ji led government has been
" highly promising and the best" i
n the area of
"development and public welfare".
Every policy of Uttar Pradesh Govt. is based on
'Sarvajan Hitay – Sarvajan Sukhay'
Important and Historic Initiative for Law & Order and Crime Control
1.
Since the formation of the present government in Uttar Pradesh, on 13 May, 2007 till date, an Unprecedented
environment of "peace and order and communal harmony, free from injustice, crime and fear" has been created by giving "top priority" to "law-order and crime control" for which several important decisions had to be taken with iron resolve at the different levels e.g:
2.
Rigorous and effective action taken against more than 1 lakh known notorious criminals/Mafiosi.
3.
1.707 notorious criminals detained under the most stringent "National Security Act (NSA)".
4.
Strict action taken under the "Gangster Act" against about 40,000 professional offenders.
5.
A total of 8.013 notorious delequents, carrying reward on their heads, were arrested, including those "carrying on the head a reward" upto Rs.5 lakh.
6.
Another 374 notorious criminals carrying reward, between Rs.50,000 – Rs. 5,00,000 were "killed" by the police in self defense.
7.
Also, thousands of anti-social elements/goondas and white-collar criminals were sent to their right place i.e. behind the bars in the "jail".
8.
For the first in the state, action was also taken against " influencial people and those occupying high positions" found guilty of breaching the law, establishing the motto "all wequal before the law" under which several ministers, ex-ministers, MPs and legislators were proceeded against leagally with due strictness.
9.
"Historic action" continues, without let or hinderance, against arrant criminals and Mafiosi to "confisticat their
ill-gotten wealth" in order to break the economic backbone. Property worth more than Rs. 443 crore forfeited so far
.
10.
Elimination of fierce dacoits – synonymous of terror, Rs. 5 lakh rewardee bandit chief Shivakumar alias Dadua, Ambika Patel i.e. Thokia, Mussafir Yadav, carrying a reward of Rs.2lakh from Bihar State and Santosh alias Kittu Gupta with a reward of Rs. 1.5 lakh besides, several other offenders carrying rewards between Rs. 1 lakh and Rs. 50,000 were killed by police in encounters inself-defence.
11.
In the terrorist attack on CRPF group centre at Rampur by 4 terrorists of HUJI – Harqat UI Jehad Al Islami as well as an active member of Khalistan Zindabad Force (KZF) together with ISI agents were also apprehended.
12.
Noor Baksh, a shooter belonging to the gang of international criminal, Dawood Ibrahim was shot daed while trying to escape from police custody.
13.
To secure justice to prosecuted people under the previous government, 10,000 cases filed through a "special campaign" and action taken against 31,136 persons. "Legal" action also initiated against those trying to register "fake" reports.
14.
The area of 'jungle raj', goonda tax, 'mafia rule' and 'anarchy' inherited in legacy, ends, entirely due to the "missionary and struggling" efforts of Hon'ble Chief Ninister Ms. Mayawati JI. People, coming out of the suffocating "jungle raj", breathing in, today, the wiff of fresh air of the "rule of law by law".
15.
The result of such strict action was that an environment of " communal harmony" continued to exist and no untoward incident occurred in the whole of the state, in light of the court decision on the very sensitive Ram Janmbhoomi/Babri Masjid "case". The peaceful conditions prevailed in Uttar Pradesh, there was calm and quiet in other states of the country as well.
16.
So also Common Wealth Games 2010, three-tier panchayat elections, Mahakumbh fair, Haridwar-2010, Allahabad Magh Mela-2011 passed off peacefully. Lok Sabha-2009 general elections were also conducted without violence, with peace and impartiality.
17.
In order to ensure "justice" to the general public and create "trust" towards the law and order system in them,
strict instructions issued to record the First Information Report (FIR) in the thanas from victimized persons without the slightest difficulties.
18.
Instructions to all district, division and tehsil level authorities to be available to the people, as a must in their
offices from 10 to 12 in thye morning.
19.
Observance of "thana divwas" on every 1st and 3rd
Saturdsy of the month with the object of taking effective
action against victimization of poor people of the sarv-samaj.
20.
As a result of these special efforts made by the government, remarkable "decline" in the rate of all kinds of crime against "SC/ST" in the state. Eqally notable has been the percentage of disposal of crime enquiries which stands at 92.
21.
Appointment of a special public prosecutor" for prosecution of cases under the SC/ST Prevention of Atrocities
Act.
22.
"Considerable reduction" in incidence of all crimes against "women" in the state.
23.
The percentage of action was 94.1, last year against those accused of crime against "women" and 91.9 of cases disposed of, which is a "record" in itself. Consequently, the rate of crime against women in Uttar Pradesh is much less than even the national average.
24.
The effort to secure "justice" in every matter and at every level
to every segment of the society and the sarv-samaj, the poor people, farmers, labourers, businessmen, lawyers, service-class and non-service-class people as also students in accordance with the policy of "Sarvajan Hitay Sarvajan Sukhay".
25.
Together with the arrest of more than two dozen hard core naxalites, a strategy of
"tatal development (samagra vikas)" in identified areas adopted in order to deal with the "naxal" problem so that a feeling of trust towards the administration in kindled in the public psyche in the affected areas and they do not go astray. Efforts to provide the various basic amenities under Dr. Ambedkar gram sabha yojns to the 423 naxal affected villages.
26.
Many important and historic decisions taken to establish "rule of the law by law" in the state
in order to "modernize and strengthen to make the police administration alert and vigilant".
27.
More than double the increase in police budget with about Rs. 7,740 crore sanctioned. For the first time in Uttar Pradesh a service manual for different sections of the police force promulgated.
28.
Formation of "Uttar Pradesh Police Recruitment Board" for transparency in view of complaints of corruption in
police recruitment.
29.
In a "historic" decision about 2.04 lakh new posts for policemen created, in one stroke. Already 35,000 constables selected in a transparent procedure – a step which has been praised at the national also.
30.
Constitution of two new zones Viz. "Poorvanchal and western Uttar Pradesh" to further strengthen the "Special Task Force (STF)".
31.
"National Capital Police Zone" formed for effective control over law and order and crime control in western Uttar Pradesh.
32.
Establishment of "women police stations (mahila Thana)" in all districts together with "mahila helpline", "family planning Centre" and "mahila sahayta prakoshtha" at the state level.
33.
"Anti-Terrorist Squad (ATS)" set up in November, 2007 itself.
34.
"SIT" constituted to investigate serious economic offences.
35.
For proper security and up keep of the newly constructed sites/memorials
etc
formation of "Uttar Pradesh Police Special Zone Security Battalian" under which 1,233 new posts created.
36.
"state level committee constituted" inder the chairmanship of Director General, police to prevent circulation of
"counterfeit / fake currency notes".
37.
Sevearl proposals for necessary cooperation pending with the centre about inclusion of naxal-affected districts
into "focus" districts under the "integrated development plan" for development of the local surroundings and modernization of the police.
Apart from these, many more important steps were taken, a detailed account of which is given in a booklet published by the government, highlighting its achievements during the last four years.
In brief, to get the correct feel of ground realities, the Hon'ble Chief minisre Ms. Mayawati Ji herself made surprise inspections of "Law-order and crime control:, for one full month i.e. from 1 February – 2 March, 2011, visiting police stations in all the 72 districts in the state,taking strong action against authorities found wanting in performance and issuing guidelines for improvement.
Every policy of Uttar Pradesh Govt. is based on
'Sarvajan Hitay – Sarvajan Sukhay'



Uttar Pradesh Chief Minister Mayawati comes out of a polling station in Lucknow on Sunday after casting her vote. Photo: Subir Roy

High turnout indicates people's anger at Congress, BJP, SP regime

Uttar Pradesh Chief Minister Mayawati on Sunday said her Bahujan Samaj Party would win more seats now than in 2007, pointing to the response to her rallies.

In 2007, the party bagged 206 seats.

Ms. Mayawati was speaking to journalists after voting at the Lucknow Montessori Intermediate College in the fourth phase of the Assembly elections.

Ms. Mayawati reached the polling station at noon and cast her vote at booth number 235. She was accompanied by party general secretary and Rajya Sabha member Satish Chandra Mishra and Cabinet Secretary Shashank Shekhar Singh. Mr. Mishra and the Cabinet Secretary also voted at the same centre, though at different booths.

Ms. Mayawati then left for rallies at Hamirpur and Firozabad, where voting will take place on February 23 in the fifth phase.
No action against Nasimuddin Siddiqui: UP govt
Lucknow: The UP government on Monday told the state Lokayukta that a CBI probe as recommended by it against its minister Naseemuddin Siddiqui cannot be initiated as the charges made against him were not related to any of his decisions or approvals taken during his tenure as minister.

"It is not possible to take action as per the law on the recommendations of the Lokayukta as there is no charge against Naseemuddin on approvals granted by him or any of his decisions and works as a minister," an official spokesperson said here.


Won't people see the contradiction between his promise of political morality and the tainted Congress-led UPA government at the centre? Won't that Rahul's team in UP isn't exactly lily white or has an edifying record?


T
he Hand of Congress was used to swindle lakhs of crores of rupees meant for Aam Aadhmi through taking bribes and depositing the black money in Foreign Banks with the very same hand

. This hand has stopped the progress of this country. This hand takes money from the rich. Buy votes from the poor and shows ta..ta...

to help the TATAs and Birlas. Youth are rubbing ganja in this very hand because of frustration of not getting enough jobs.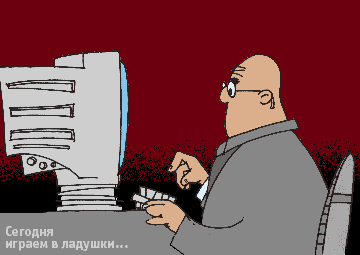 BSP distributed scholarship to all sections of studeents including Muslims in a most scientific way in the beginning of their classes.




The Yadav People in in the SP stronghold wanted to support BSP because the community was angry with Mualayam Singh Yadav for not fulfilling his promise of providing jobs.Sarvajan Samaj have come out in large numbers to vote for BSP which had made politics sacred with highly promising best and meritoripus governanace fo UP CM Ms Mayawati.
Neither the Congress nor the BJP nor the SP that ruled UP for 40 years but never provide any reservation to Muslims. Now for the sake of votes they are making bogus promises.
The Hand of Congress was used to swallow lakhs of crores of rupees meant for Aam Aadhmi through taking bribes and depositing the black money in Foreign Banks with the very same hand. This hand has stopped the progress of this country. This hand takes money from the rich. Buy votes from the poor and shows ta..ta... to help the TATAs and Birlas. Youth are rubbing ganja in this very hand because of frustration of not getting enough jobs.



Thehalka,

Samay Dead,

hindusthan bad times,

DNTV,Ill Post,

ASSEMBLY SELECTIONS 2012,

The Indian Goods,

The Ahindu,

THE CHRONICAL OF GAFTHOLOGY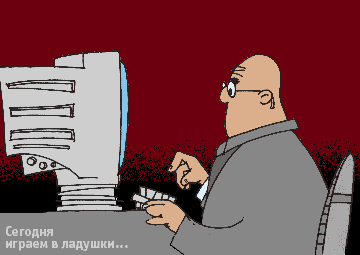 These are some of the VIEWS Papers and Idea medias (Black and blind paid views reporters/scribes/journalists searching for black cat in a dark room which is not there) are publishing false and bogus views to please Congress, BJP, SP bosses forgetting that there are educated people belonging to sarvajan samaj including SC/ST/OBC/Minorities/Poor upper caste who have already stoped buying these views. Their comments are not published agsinst their views. As long as they are paid they are not bothered about their sales as they are paid by their bosses. They are forgetting that there is a very powerful media in this country. Their prediction that Ms Mayawati will get 303 seats will come true just like in 2007 where the predictions of the above views papers and the ideas of the medias failed.
We, the monks and members of the Maha Bodhi Organisation cordially request the pleasure of your participation in the
Which marks the 91st birthday of our beloved Bada Bhante the
Venerable Acharya Buddharakkhita
Abhidhaja Aggamaha Saddhamma Jotika, D.Lit
The Founder President of Maha Bodhi Society Bangalore and its sister organisations
Sambodhi Pujana Dhatu Cetiya
On Phagguna Purnima, 8th March 2012 Thursday at 9 AM
14, Kalidasa Road, Gandhinagar, Bangalore-560009, India
Tel: 080-22250684, Fax: 080-22264438
Venerable Phrakhrupalad Suvathanavachirakhun
(Sawai Chotiko),
Vice Rector for Foreign Affairs,
Mahachulalongkornrajavidyalaya University, Thailand
There will be recitation of the Holy Dhammapada and meditation retreats from 1st to 15th March 2012. Bada Bhante has already started one week meditation courses for monks which will run throughout the year in the newly built Satipatthana Bhavana Kendra. In every course there are 9 monks.
We have recently constructed Satipatthana Bhavana Kuti and renovation of the old Dhamma hall is going on. We are also constructing SambodhiPujana Dhatu Cetiya. Five new books will be published on the occasion of Dhammapada Festival. We request you to kindly help us to complete all these programs.
You may please send your contribution by cheque/draft/MO in favour of Maha Bodhi Society, Bengaluru and post to
14, Kalidasa Road, Gandhinagar,
Or you may directly make electronic transfer to our bank account
Account No. SB 353102010000137
Gandhinagar Branch, Bangalore – 560009, India
General Secretary, Maha Bodhi Society, Bengaluru.
------------------------------------------------
8th March 2012 Thursday
9:00AM
Venue: Maha Bodhi Society, Gandhinagar, Bangalore
Sambodhi Pujana Dhatu Cetiya
Venerable Acharya Buddharakkhita
Puja at the Sacred Bodhi Tree and the Stupa,
Buddha Puja, Sutta Chanting and undertaking of Sīlas and
Dhamma Discourses at Loka Shanti Buddha Vihàra
Inauguration of Dhamma Hall by
Venerable Phrakhrupalad Suvathanavachirakhun
(Sawai Chotiko),
Vice Rector for Foreign Affairs,
Mahachulalongkornrajavidyalaya University, Thailand
An Unforgettable Inheritance – Part III (Dhammapada Commentary)
Dighanikaya – Vol 1 (Kannada Tipitaka Project)
Sutta Sangaho – Part III (Collected Sutta & translation)
Hattha Ratana – (Jewel in Hand) – Practical handbook for monks
Dhammapada Gatha Prasangagalu – Dhammapada stories in Kannada
2:30 PM – Dhamma Discourse by
Venerable Phrakhrupalad Suvathanavachirakhun
4 PM - Hospital Dana Service at Bowring Hospital
6 PM – Puja


FREE
ONLINE
e
N
ālan
d
ā
Research
&
Practice
UNIVERSITY
&
BUDDHIST
GOOD
NEWS
LETTER
Through
:http://sarvajan.ambedkar.org
Poll managers are rapidly coming to the conclusion that the BSP is gaining 303 seats.
Party supremo Mayawati, is still going to emerge as the number one player in UP, with as many as 303 seats. This is because the BSP, has been exceptionally careful in the selection of candidates.
Mayawati has denied tickets to as many as 100 sitting MLAs and has removed the ministers perceived to be corrupt. While the Congress may be seen to be 'appeasing' the Muslims, the fact is that the BSP has given tickets to the maximum number of Muslim candidates.
The BSP has fielded 85 Muslims, and the Congress, which has given tickets to 60 Muslims.
Mayawati,will account for a lot in the presidential poll
.
'The BSP will certainly be a player in Uttarakhand.
UP recommends CBI probe into accountant death
The Uttar Pradesh government on Sunday recommended a CBI probe into the death of health department accountant Mahendra Kumar Sharma in Lakhimpur Kheri district.

"The state government has recommended the probe and a letter in this regard has been sent by the state", a senior home
http://www.tribuneindia.com/2012/20120227/main2.htm
JOYSINGHC@aol.com ;
Sugarcane farmers benefit through SIS system in Uttar Pradesh
LUCKNOW: For
sugar cane farmers
in Uttar Pradesh a novel e-governance project has come as a boon for dealing with delayed payments, under weighing of their produce, problems in selling cane and a host of other related issues.
In a state starved of any innovative governmental initiatives, the Sugar Information Service, started by the
Uttar Pradesh government
has earned accolades and is now the largest rural information technology platform in the country receiving 8 lakh hits for IVRS generated updates to farmers in the last 90 days and updating 2.5 crore webpages.
UP is the largest producer of cane in the country and the sugar industry is one of the mainstays of the state's economy. But cane farmers have always grappled with issues like-getting their cane fields surveyed, selling their produce to mills, correct and timely measurement of cane, prompt payment etc.
There was lack of transparency at each level and farmers at times illiterate were taken for a ride. Millers also suffered at times, as due to these hassles many farmers had started shunning cane cultivation or used to sell it to the local jaggery or 'khandsari' units leading to shortage of cane for mills.
"We figured that most farmers have a mobile phone or atleast have access to it with telecom services reaching remotest parts of the state. We thought of harnessing the mobile phone and for those who do not have a mobile or are illiterate and cannot read SMSes incorporated an Interactive Voice Response System (IVRS) feature" said Cane Commissioner Kamran Rizvi.
As part of the project a model website was developed and adopted by all 116 operational sugar mills in the state. A password protected webpage for each of the 30 lakh odd farmers was developed.
The website is supported by SMS and
IVRS facility
. Farmers can access all information regarding them through either visiting the website, SMS or making a call to the IVRS number.
The website is updated on time 24x7 and SMS sent out to individual farmers as soon as any transaction is done with them. All 7,000 cane purchase centres were equipped with Hand Held Computers to complete the system.
The system helps farmer gets instantaneous updates right from the start of the cane farming season till he receives payments for his produce. The SIS informs all farmers by sending individual SMS when the mills start operations in their area and begin buying cane.
Mills only buy cane in installments and according to the date allotted to an individual farmers, so that they do not have excess stock and a situation where cane is left drying in the open leading to low recovery of sugar.
Congress alone believed in fighting corruption- Congress president

Sonia Gandhi

Sunday pointedly blamed the SP, BSP and BJP

Sonia Gandhi cites privacy, refuses to disclose info on I-T returns


http://timesofindia.indiatimes.com/opinions/12012517.cms?commenttype=agree&sorttype=bycount


Most * Agreed* Comment

Truth (Delhi)
Agree (241) Disagree (9) Recommend (144)

Largest democracy in which a white fake Gandhi named Sonia rules over
1 billion people after the country kicked out the foreign rule 60
years back.

• A lady who may have passed high school & have worked in restaurants
in London before marrying a Gandhi.

• A lady who cannot speak any of the languages of the modern colony
called India.

• A country which is ageless & as old as civilization itself & people
are generally considered intelligent?

• The foreign ruler practices a different religion than 90% of the
populace. • This lady cannot make a speech for 5 minutes in any
language without prepared notes from party slaves.

• This lady remained an Italian citizen for 18 years & then became an
Indian since her husband wanted to run for the PM's job.

• This lady has looted the poor colony massive amounts of money &
still continues to loot with total impunity. She has enriched all her
relatives back in Italy with looted money & old antiques from India.

• She took billions from Quottrochi for the Bofors gun deal & this was
the first taste of blood for fake Gandhi which led to bigger mega
scams.

• She is a divide & rule queen & divided the country on religious
fault lines for votes & ruling power. She ordered a census of Military
to create a special Muslim regiment to help enemies of India. She has
made reservation in Colleges, schools, Govt jobs etc for Muslims &
Christians

• She made millions from middle man Quotrochi during the Bofors
scandal & that was like a tiger tasting the first blood. This was a
pre-cursor to numerous multi-billion $ scams & corruption at every
layer of Govt

• This lady could be a foreign spy & abuses government machinery with
total impunity. She twisted hands of CBI to allow Quottrochi to escape
to Italy after he was arrested in Argentina

• This lady orders around all the leaders of Congress including the
PM, DogVijay & other ministers some of whom are doctorates from
International Universities

• These ministers fight with each other to kiss this leaders feet
with absolutely no shame. Some even venerate her a Hindu white Italian Durga
• This lady who is grooming her intellectually challenged son to take
over as the Monarch of this modern colony.
• This lady who has made corruption & mega scams standard of govt &
which is slowly eating the whole fabric of the country & its unity. •
This lady who is using CBI, CVC, PM, Election Commissioner, SC & HC
Judges, police etc as her coolies to do her bidding & staying in power
for life.
• She is the most powerful leader of Indian slaves & laughing with her
family as to how easy it is to rule over the bloody slaves of India.
We all should be ashamed & ask What has happened to us that we cannot
find any other leader from within our own country? We need another
liberation struggle till we throw her & her family out & bring real
independence for our country from foreign mafia rule. Kick this fake
Gandhi rule from India.
[Non-text portions of this message have been removed]
Blaming the Congress for starting 'corruption culture' in the country, the BSP chief has alleged that the maximum black money in foreign banks was that of Congress leaders.
Attacking the Congress for defaming her government on the issue of corruption, Mayawati alleged 62 scams of Rs 20 lakh crore took place in the Congress-led government at the Centre.
But a scam worth thousands of crores like 2G is different.

Rural Development Minister Jairam Ramesh is right in saying that Congress is not fighting Uttar Pradesh elections to form a coalition government, because of their fourth position. Gandhi scion was not one who can "make or break" by any one election knowing well that the congress is not going to win.
Election Commission notice to Sriprakash Jaiswal for President's Rule comments
New Delhi: Holding prima facie that his comments on imposition of President's Rule in Uttar Pradesh a threat to voters and violation of Model Code of Conduct, the Election Commission on Friday slapped a show cause notice on Union Minister Sriprakash Jaiswal asking why action should not be initiated against him.

"The commission is, prima facie, satisfied that Shri Sri Prakash Jaiswal, by making the aforesaid uncalled for statement has attempted to threaten the voters of districts going for poll in 6th and 7th phases either to vote for his party i.e. INC, or face imposition of President Rule in Uttar Pradesh and has thus violated the aforesaid provisions of the Model Code of Conduct," the poll panel notice served on him said.

The commission asked the Coal Minister to explain his position on the matter by 2 pm on Monday, failing which it will decide the matter without giving any further opportunity to him.

The commission discussed the matter at its meeting attended by Chief Election Commissioner S Y Quraishi and Election Commissioners V S Sampath and H S Brahma and decided to issue a show cause notice to Mr Jaiswal on his comments.

The poll panel action comes in the wake of complaints received, charging Mr Jaiswal with violating the Model Code and for threatening the voters of Uttar Pradesh.

The Election Commission acted on the complaint made against Mr Jaiswal yesterday and the complaint received by it today.

Mr Jaiswal had, after casting his vote in Kanpur in the 5th phase of polling on Thursday, said, "If Congress gets majority, then it will form the government... in case we don't get clear majority, we sit in the opposition and I see no alternative but Governor's rule."

The commission had earlier sought the video of Jaiswal's speech besides also a report on the matter from the district magistrate of Kanpur, which has since been given.

The commission held the Model Code of Conduct was for the guidance of political parties and candidates and it provides that "all parties and candidates shall avoid scrupulously all activities which are 'corrupt practices' and offences under the election laws such as ... intimidation of voters..."

Reacting sharply to Mr Jaiswal's remarks, the Congress is treating the state like its fiefdom and the minister's comments is "undemocratic and a threat to the voters".

President's rule in UP if Congress does not get a majority would be blatant misuse of the provision.

A Union minister has publicly announced that if our government is not formed, President's Rule will be imposed... Article 356 will be used. Nobody can even think of such blatant misuse. The makers of our Constitution had never imagined it would be used in the manner the minister has stated.
He is issuing a threat to voters that if you do not vote for Congress, we will bring President's Rule. This (UP) is not Jaiswal's fiefdom. This is a democratic country. By issuing such a threat, in a way Jaiswal has violated the model code of conduct and threatened people.
An Indian Muslim woman casts her vote at a polling station in Gonda, in the state of Uttar Pradesh, India,
MAY YOU BE EVER HAPPY, WELL AND SECURE
MAY YOU LIVE LONG0
MAY ALL SENTIENT AND NON-SENTIENT BEINGS BE EVER HAPPY
MAY YOU ALWAYS HAVE CALM, QUIET, ALERT,ATTENTIVE AND
EQUANIMITY MIND WITH A CLEAR UNDERSTANDING THAT
EVERYTHING IS CHANGING
MAY YOU BE EVER HAPPY, WELL AND SECURE
MAY YOU LIVE LONG
MAY ALL SENIENT AND NON-SENTIENT BEINGS BE EVER HAPPY
MAY YOU BE ALWAYS HAVE CALM, QUIET, ALERT,ATTENTIVE AND
EQUANIMITY MIND WITH A CLEAR UNDERSTANDING THAT
NOTHING IS PERMANENT
---
From:
Siddhartha Kumar <mailsiddhartha.k@gmail.com>
To:
zestcaste <zestcaste@yahoogroups.com>
Sent:
Tuesday, 28 February 2012 6:46 PM
Subject:
[ZESTCaste] We'll put Mayawati's parks to better use for the Dalits: Akhilesh Yadav
http://www.sify.com/finance/We-ll-put-Mayawati-s-parks-to-better-use-for-the-Dalits-Akhilesh-Yadav-news-Analysis-mc0akwjgfjc.html
We'll put Mayawati's parks to better use for the Dalits: Akhilesh Yadav
By Aditi Phadnis
Source BUSINESS_STANDARD
| 2012-02-26 00:10:00
Akhilesh Yadav, president of the Uttar Pradesh unit of the Samajwadi
Party, tells Aditi Phadnis what his party's agenda will be if it comes
to power
Your party is seen as being opposed to big industries and anti-investment…
Not at all. It was during the regime of Netaji (former Chief Minister
Mulayam Singh Yadav, also Akhilesh's father) that Uttar Pradesh got
its first-ever Economic Development Council, which brought the top
people in the field into the state, including Nandan Nilekani, who was
then with Infosys, Kumaramangalam Birla and Anil Ambani. We conceded
it is possible that politicians don't understand business. So, the
Development Council was mandated with overhauling and tweaking
policies to bring investments to the state.
What we did specify was a positive bias to those industries which are
linked with the interest of farmers. So, our government set up 29
sugar mills, which could produce power from bagasse, and we exempted
them from taxes. The Tatas set up a bus plant, producing Marcopolo
buses. The Anil Ambani group set up the Rosa thermal power plant,
adding 600 Mw power with the provision of producing 1,200 Mw in the
future. It was our government that set up the Anpara-C thermal power
plant, given to Lanco, with 1,200 Mw capacity. Also, there is the
hydel power plant at Srinagar, which was given to the GVK group.
The Dadri plant could not come up because of the opportunist agitation
launched by V P Singh. Otherwise, Uttar Pradesh would have been a
power-surplus state.
During the same period, hotelier Lalit Suri suggested our government
should set up industries that involve skill development of young men
and women in the state. We thought if the state was able to set up 12
to 15 world-class hotels before the Commonwealth Games, it would boost
employment. So, we proposed hotel management courses as well as gave
land to the Tatas, ITC, etc, to set up hotels in the state.
But when the Mayawati government came to power, the land allocation
was cancelled, taking the case to the Supreme Court. The SC has now
ordered the Noida authority to charge an additional Rs 70,000 per sq
metre of land allotted for the 14 hotel sites. If the matter had not
gone to the court, the hotels would have been ready, up and running by
this time.
A charge often levelled against us is that we are against English. But
it was Netaji who set up the Amity University, which is one of the
finest universities in the region today. No one has been able to match
the private medical colleges set up by our government. But,
unfortunately, the government that succeeded us made a hash of medical
education. I only need to give the example of the medical college cum
hospital that was to come up in Azamgarh. The Mayawati government did
not allow it to happen. We have also set up universities for
minorities.
Many of these ideas came from a man, who you have now thrown out of the party…
There is good and bad in all of us.
Why does this perception still persist that the Samajwadi Party is
narrow and backward-looking, as well as opposed to modern ideas?
Take a look at our manifesto. We are offering inter-colleges and
midday meal schemes, especially in endemically backward areas such as
Mirzapur and Bundelkhand. We are offering laptops with Hindi and Urdu
softwares to students. We will build roads and increase connectivity,
so that people in the most backward areas can also access progressive
education.
I don't think these are backward-looking objectives. In fact, Mayawati
emphasises on the inferiority complex of Harijans. The Congress and
the Bharatiya Janata Party offer you fear and hatred. Ours is the only
party that has a positive campaign. The Congress tried to cheat the
Muslims in the name of 4.5 per cent reservation for them. This quota
will not help the community in any way. The Samajwadi Party will
provide more reservation for the Muslims on the basis of the Sachar
Committee and Rangnath Mishra Commission's reports.
Your party is associated with a return of rowdyism and politics of
thuggery on campuses…
Law and order will be the highest priority of our government. There is
a committee in our party, under the leadership of Ramgopalji (Mulayam
Singh Yadav's brother), to scan the people who should be allowed to
enter the party. As far as law and order is concerned, we want to set
up CCTVs everywhere — in police stations, tourist and religious
centres. This will serve as a deterrence to anti-social activities.
You are believed to have said on the record that if you come to power,
you would auction statues of elephants and dismantle Ambedkar parks.
How do you think the Dalits would react to such a statement?
I was misquoted. I never said statues would be auctioned. There is
enough political space for everyone. Most of these parks occupy
several acres of land — some span 600 acres. We would like to use the
land in a better way — create aesthetically modelled medical colleges,
research centres and information technology centres. We will seek
advice from their (Mayawati-government appointed) architects! In fact,
these complexes will be meant for the Dalits. Except they would be for
their progress, and not for statues of individuals.
Your party is undergoing a transition, as the leadership is shifting
from the hands of one generation to another. How are you going to
manage it?
True, there have been some issues. Some things have come up. But there
is no change in principles. The Samajwadi Party believes in equality
and prosperity for all. The whole party is engaged in campaigning.
Who do you consider as your closest political ally in Uttar Pradesh,
helping to form a government if you don't get the numbers?
We will get a majority on our own. We won't need any help from anyone.
The people of Uttar Pradesh will ensure that.
Do you see yourself as the chief minister?
Netaji will be our chief minister.
------------------------------------
----
INFORMATION OVERLOAD?
Get all ZESTCaste mails sent out in a span of 24 hours in a single mail. Subscribe to the daily digest version by sending a blank mail to
ZESTMedia-digest@yahoogroups.com
, OR, if you have a Yahoo! Id, change your settings at
http://groups.yahoo.com/group/ZESTMedia/join/
PARTICIPATE:-
On this list you can share caste news, discuss caste issues and network with like-minded anti-caste people from across India and the world. Just write to
zestcaste@yahoogroups.com
TELL FRIENDS TO SIGN UP:-
If you got this mail as a forward, subscribe to ZESTCaste by sending a blank mail to
ZESTCaste-subscribe@yahoogroups.com
OR, if you have a Yahoo! ID, by visiting
http://groups.yahoo.com/group/ZESTCaste/join/
Also have a look at our sister list, ZESTMedia:
http://groups.yahoo.com/group/ZESTMedia/Yahoo
! Groups Links
<*> To visit your group on the web, go to:
http://groups.yahoo.com/group/ZESTCaste/
<*> Your email settings:
Individual Email | Traditional
<*> To change settings online go to:
http://groups.yahoo.com/group/ZESTCaste/join
(Yahoo! ID required)
<*> To change settings via email:
ZESTCaste-digest@yahoogroups.com
ZESTCaste-fullfeatured@yahoogroups.com
<*> To unsubscribe from this group, send an email to:
ZESTCaste-unsubscribe@yahoogroups.com
<*> Your use of Yahoo! Groups is subject to:
http://docs.yahoo.com/info/terms/
__._,_.___
----
INFORMATION OVERLOAD?
Get all ZESTCaste mails sent out in a span of 24 hours in a single mail. Subscribe to the daily digest version by sending a blank mail to ZESTMedia-digest@yahoogroups.com, OR, if you have a Yahoo! Id, change your settings at
http://groups.yahoo.com/group/ZESTMedia/join/
PARTICIPATE:-
On this list you can share caste news, discuss caste issues and network with like-minded anti-caste people from across India and the world. Just write to zestcaste@yahoogroups.com
TELL FRIENDS TO SIGN UP:-
If you got this mail as a forward, subscribe to ZESTCaste by sending a blank mail to ZESTCaste-subscribe@yahoogroups.com OR, if you have a Yahoo! ID, by visiting
http://groups.yahoo.com/group/ZESTCaste/join/
Also have a look at our sister list, ZESTMedia:
http://groups.yahoo.com/group/ZESTMedia/
.
__,_._,___