03 02 2012 LESSON 513 Dhammapada Verses 57 Death Cannot Trace The Path Of Arahats
-Mayawati attacks Congress on corruption issue
UP students best in country-Mayawati's food tracking system for schools gets HRD
-Ms Mayawati's Magic will certainly work and she will get 303 seats
UP polls: Will Mayawati's magic work again?
FREE

O

N

L

I

N

E

e

N

ālan

d

ā

Research

&

Practice

UNIVERSITY

&

BUDDHIST

GOOD

NEWS

LETTER




THE BUDDHIST ON LINE GOOD NEWS LETTER
COURSE PROGRAM

LESSON 513
Practice a Sutta a Day Keeps Dukkha Away
Ms Mayawati's Magic will certainly work and she will get 303 seats
Verse 57. Death Cannot Trace The Path Of Arahats
Of those with perfect virtue
who dwell in heedfulness,
freed by Final Knowledge
Mara cannot know their path.
Explanation: Of those noble one, who are perfect in behaviour, living constantly alert, fully aware of the experience within, Mara, the evil one, does not know their destiny. Mara can trace only the slothful dead. He cannot trace those who have reach the Deathless.
Dhammapada Verse 57
Godhikattheraparinibbana Vatthu
Tesam sampannasilanam
appamadaviharinam
sammadanna vimuttanam
Maro maggam na vindati.
Verse 57: Mara cannot find the path taken by those who are endowed with virtue, who live mindfully and have been freed from moral defilements by Right Knowledge.1
---
1. Arahats having eradicated moral defilements are no longer subject to rebirths; so Mara, for all his power, cannot find out where such arahats go after death. (The Commentary)
---
The Story of Thera Godhika
While residing at the Veluvana monastery, the Buddha uttered Verse (57) of this book, with reference to Thera Godhika.
Thera Godhika was, on one occasion, diligently practising Tranquillity and Insight Development, on a stone slab on the side of Isigili mountain in Magadha. When he had achieved one-pointedness of the mind (jhana) he became very ill; that impaired the effectiveness of his practice. In spite of his sickness, he kept on striving hard; but every time he was making some progress he was overcome by sickness. He was thus inflicted for six times. Finally, he made up his mind to overcome all obstacles and attain arahatship even if he were to die. So, without relaxing he continued to practise diligently; in the end he decided to give up his life by cutting his throat; at the point of death he attained arahatship.
When Mara learned that Thera Godhika had died, he tried to find out where the thera was reborn but failed to find him. So, assuming the likeness of a young man, Mara approached the Buddha and enquired where Thera Godhika was. The Buddha replied to him, "It will be of no benefit to you to learn of the destination of Thera Godhika; for having been freed of moral defilements he became an arahat. One like you, Mara, for all your power will not be able to find out where such arahats go after death."
Then the Buddha spoke in verse as follows:
Verse 57: Mara cannot find the path taken by those who are endowed with virtue, who live mindfully and have been freed from moral defilements by Right Knowledge.
UP polls: Will Mayawati's magic work again?
Uttar Pradesh Chief Minister Mayawati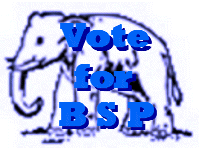 A BSP supporter wore a hat bearing the BSP party symbol and Ms. Mayawati's poster during a rally in Lucknow, March 15, 2010.
Mayawati attacks Congress on corruption issue
Uttar

Pradesh

Chief Minister

Mayawati

today attacked Congress saying 62 big scams involving around

Rs20

lakh

crore have taken place during the

UPA

regime at the Centre.
Addressing election meetings,

Mayawati

termed the Congress-led government as corrupt and said despite these scams the

CBI

has not shown the inclination to speed up trials.
"No action has been taken on the

Amar

Singh,

Mulayam

Singh

Yadav

and

Shanti

Bhushan

CD case," she said.
Under attack on the issue of corruption,

Mayawati

said

SP

,

BJP

and Congress had no right to speak on it. All these parties are trying to project themselves as honest after being part of massive irregularities, she said.
Alleging that

BJP

, Congress and their supporting parties were aiming to finish the constitutional right of reservation meant for

SC/STs

,

Mayawati

said opposition parties wanted to divide

SC/STs

and backwards in the name of quota which would not be allowed by her party.
Mayawati

said that Congress has misled Muslims on the issue of reservation for which she had written several letters to the Prime Minister in the past.
"Congress is saying that it would give reservation to backward Muslims in proportion to their population under the

OBC

quota and by doing so they want both these sections to stand against each other," she said adding that Congress was playing politics on this issue.
The

BSP

supremo

said she has given tickets to people with clean image and had taken care to give representation to all sections of society in ticket distribution.
The

BSP

chief said that to deal with problems of poverty, unemployment and inflation it was essential to bring back

BSP

to power and stop

BJP

,

SP

and Congress from forming the government in

Uttar

Pradesh

.
Rahul

cent percent breaks in his bid to capture the national stage.
Mayawati's Bahujan Samaj Party (BSP) is off and running, having served the not only Scheduled Castes but also the OBCs/Minorities and even the poor among the Uper Castes remarkably well during her term as the CM.
Hence the fight is straight between BSP on one side and BJP,Congress, SP, EC, CBI and the media fully supporting them. She will win 303 seats.
As for the future of UP, the uniformly unimaginative manifestos across all three parties BJP, Congress and SP offer little by way of an economic or social programme. They only sharpen the communal divides - across both castes and religions - make tall promises of employment for the youth and offer freebies, including reservations for certain sections in employment.
Whereas BSP is the only party that unites all sections of the society with its policy of Sarvajan Hithay Sarvajan Sukhay i.e., welfare and happiness of the entire people as enshrined in the Constitution of this country, which is its manefesto.
BSP was still a force. The support base of Behenji

Mayawati

is still intact and the polls will prove it again.
Ms mayawati the Awakened One with awareness has already awakened the people of Uttar Pradesh and the entire country on Social Transformation and Economic Emancipation for equality as per the Constitution.
Politics has become sacred with highly promising best and meritorious governance with equal distribution of wealth by Ms Mayawati. Hence all sorts of false promises by the Oppositions parties are attempts to divide the broad minded people in the name of castes and religion which will not succeed as the people are united and leading a peaceful life.
Congress and BJP governments in the Centre and some states ruled

over the last 65 years for failing the common man.
These parties have done nothing for the Centre or the states

during their governments . They have, however, filled their own pockets, though there had been a lot of change and development all over the world, UPA and NDA has ruined this country.
UPA and NDA governments did not distribute the tax payers money equally among all sections of the society and are held responsible for 'destroying the country'. "For development and public welfare people have given more than Rs lakhs of

crore to UPA and NDA, but what happened to these funds? Did they control the ever rising prices of essential commodities? What measures were taken for flood control and other natural calamities? What measures were taken to control the mal nourshment of 59% of the children? All the funds meant for such activities

"went to the corrupt" and the rich people. "UPA and NDA have different names but play similar roles and the results of their work are also the same.
These parties,formed coalition governments with an eye on power alone. Citizens were denied rights, youth were unemployed , farmers did not get fertilizers , women and the poor were not safe, farming land was acquired , and law and order and civic amenities were in a pathetic state. Those who raised their voice against corruption and crime faced threats to their lives. "Whose interests were fulfilled?
Did the UPA or NDA dismis any of their ministers or officers involved in 2G, CWG, S Band scams and so on? They are not able to see their corruption in the past sixty five years.
Only when BSP return to power in UP and ultimately in the entire country the dream of progress and development with equality will be achieved.
With reference to the
Supreme Court
direction that government should give its sanction for prosecution in the corruption cases within four months, as demanded it should be implemented in Madhya Pradesh also.
Since 2008, Lokayukta's recommendations for getting sanction for prosecution against Ministers and officials were pending with the government and no action has been taken in this regard by Chief Minister Shivraj Singh Chouhan's government.
Pulse of the voter in Ayodhya that goes to the polls on February 8 in the first phase of elections in Uttar Pradesh.
In the BSP, Mr. Ved Prakash Gupta had benefitted from the shrewd political sense of Chief Minister Mayawati, who has named him the party candidate.
Being closely associated with the problems of the traders class, Guptaji is very popular among them. Even the Baniyas in rural areas support him.
The BSP candidate, assured of the support of Mayawati's core support base, is likely to win in the traditional Baniya vote of the BJP.
MAY YOU BE EVER HAPPY, WELL AND SECURE
MAY YOU LIVE LONG
MAY ALL SENTIENT AND NON-SENTIENT BEINGS BE EVER HAPPY
MAY YOU BE ALWAYS HAVE CALM, QUIET, ALERT,ATTENTIVE AND
EQUANIMITY MIND WITH A CLEAR UNDERSTANDING THAT
EVERYTHING IS CHANGING
---
From:
Siddhartha Kumar <mailsiddhartha.k@gmail.com>
To:
zestcaste <zestcaste@yahoogroups.com>
Sent:
Friday, 3 February 2012 4:01 PM
Subject:
[ZESTCaste] Karnataka govt orders probe into torture of dalit girl
http://www.indianexpress.com/news/karnataka-govt-orders-probe-into-torture-of-dalit-girl/907480/
Karnataka govt orders probe into torture of dalit girl
Agencies Posted online: Fri Feb 03 2012, 15:44 hrs
Bangalore : Karnataka Government today directed police to probe the
alleged torture of a dalit girl in Bijapur district recently and
promised that stringent action would be taken against the guilty.
Replying to the issue raised by Srinivas Prasad (Cong) during zero
hour in the state assembly, Chief Minister D V Sadananda Gowda agreed
that the girl's torture was an "inhuman act" and asserted that
government would not tolerate such incidents.
Prasad said that in Boodihal village of Bijapur district, the owner of
a land had tied the girl to a tree and tortured her after she cut some
'jowar' plants to feed her cattle.
He refused to release the girl despite her pleas and also other dalits.
According to reports, Ninganna Biradar fled when police arrived on the
scene and set the girl free.
Gowda said that police have been asked to submit a report and action
will be taken after receiving it.
He said the government has also directed the Mandya district police to
investigate the recent honour killing of a girl by her family members.
__._,_.___
----
INFORMATION OVERLOAD?
Get all ZESTCaste mails sent out in a span of 24 hours in a single mail. Subscribe to the daily digest version by sending a blank mail to ZESTMedia-digest@yahoogroups.com, OR, if you have a Yahoo! Id, change your settings at
http://groups.yahoo.com/group/ZESTMedia/join/
PARTICIPATE:-
On this list you can share caste news, discuss caste issues and network with like-minded anti-caste people from across India and the world. Just write to zestcaste@yahoogroups.com
TELL FRIENDS TO SIGN UP:-
If you got this mail as a forward, subscribe to ZESTCaste by sending a blank mail to ZESTCaste-subscribe@yahoogroups.com OR, if you have a Yahoo! ID, by visiting
http://groups.yahoo.com/group/ZESTCaste/join/
Also have a look at our sister list, ZESTMedia:
http://groups.yahoo.com/group/ZESTMedia/
.
__,_._,___