The untouchables along with Sarvajan Samaj including SC/ST/OBC/Minorities and the poor Upper Castes will gift Multi Billion Budget amount after giving the master key as Chief Minister for the fifth time on 06-02-2012 and as Prime Minister in 2014 for equal distribution of wealth for Sarvajan Hithay Sarvajan Sukhay i.e., for the welfare and happiness of the entire people as she ha mad politics sacred by her highly promising best and meritorious governance completing full 5 years term unlike the other CM of Congress, BJP and SP.
10 02 2012 LESSON 520 Dhammapada Verse
65 Timsapaveyyakabhikkhu Vatthu
Profit From The Wise
FREE

ONLINE

e

N

ālan

d

ā

Research

&

Practice

UNIVERSITY

&

BUDDHIST

GOOD

NEWS

LETTER
THE BUDDHIST ON LINE GOOD NEWS LETTER
COURSE PROGRAM
LESSON 519
Practice a Sutta a Day Keeps Dukkha Away
Dr Ambedkar wanted SC/STs grow like banian tree,with a tremendous capacity to regenerate,giving cool shade to needy, but never wanted SC/STs to become ornamental shrubs (planted in Gamlas left at the mercy of owner for water and sun light) with out roots in the fore courts of congress. It never can think of an accidental banian seed sprouting in the heart lands of Indian polity. Fortunately Ambedkar's relentless fights, efforts and dreams has seen thelight of the day in UP. Let's sing and rejoice glory of our fore fathers. Jai Bheem! Jai Kanshiram!
-Message by BSP Dr Rahul

Verse 65. Profit From The Wise
Though briefly one intelligent
might wait upon the wise,
quickly Dhamma he can sense
as tongue the taste of soup.
Explanation: If a wise person were to associate with a wise person, even for a moment, he will quickly understand the Teaching. This is very much like the tongue being able to discern the subtle flavours of soup. This stanza could be further appreciated when you contrast it with the previous one. In the previous one the image used is the soup. Though it serves tasty food endlessly, it just cannot appreciate how food tastes, very much like a foolish individual being unable to appreciate the teaching even when he keeps company with the wise. An intelligent man, even though he is associated with a wise man only for a moment, quickly understands the Dhamma, just as the tongue knows the taste of soup.
Dhammapada Verse 65
Timsapaveyyakabhikkhu Vatthu
Muhuttamapi ce vinnu
panditam payirupasati
khippam dhammam vijanati
jivha suparasam yatha.
Verse 65: An intelligent man, even though he is associated with a wise man only for a moment, quickly understands the Dhamma, just as the tongue knows the taste of soup.
---
The Story of Thirty Bhikkhus from Paveyyaka
While residing at the Jetavana monastery, the Buddha uttered Verse (65) of this book, with reference to thirty bhikkhus from Paveyyaka.
Thirty youths from Paveyyaka were, on one occasion, enjoying themselves with a prostitute in a forest, when the prostitute stole some of their valuable ornaments and ran away. While searching for her in the forest, they met the Buddha on the way. As the Buddha delivered them a discourse the youths attained Sotapatti Fruition, and all of them joined the Order of the Buddha and followed him to the Jetavana monastery. While staying at the monastery, they strictly observed the austerity or purification practice (dhutanga). Later, when the Buddha delivered the Anamatagga Sutta (Discourse on Countless Existences), all those bhikkhus attained arahatship.
When other bhikkhus commented that Paveyyaka bhikkhus were very quick in attaining arahatship, the Buddha replied to them in verse, as follows:
Verse 65: An intelligent man, even though he is associated with a wise man only for a moment, quickly understands the Dhamma, just as the tongue knows the taste of soup.
Mayawati will recreate her magic. The results in UP will well point out Ms Mayawati wins the war for 2014.
Ms Mayawati with her highly performing best and meritorious governance has awakened the people for Sarvajan Hithay Sarvajan Sukhay i.e., for welfare and happiness of the entire people as enshrined in the constitution which has stood the test of time that is very much secular in nature reversing discrimination policy being followed by the BJP and Congress made the politics Sacred.This is the vision of BSP.
Ms Mayawati distributed the wealth of of Uttar Pradesh equally among all sections of the society believing in equallity. But the congress and BJP do not believe in equality and distributed the wealth to the rich by taking the votes of the poor.While she united the broad minded people of Uttar Pradesh with her Sarvajan Hithay Sarvajan Sukhay i.e., for the welfare and happiness of the entire people who was the only Chief Minister to rule a record 5 years term, the Congress, BJP and SP are attempting to divide the people in the name of Religion and Caste.
Mayawati said when "the Congress or its Yuvraj'' talks
of respecting Kanshiram, it sounds like an insult for which they
cannot be forgiven.
His words "hurt like a thorn'' because neither the Congress nor Rahul Gandhi had uttered any words of sympathy at the time of Kanshiram's death
.
Polls 2012: In internal spat, Congress
hope less

Clash between

Verma

and

Punia

at this stage for any position of power in the state is almost like a struggle for a crown that has not been won as yet.

Insiders point out that Punia has not been happy with the choice of candidates in his parliamentary constituency and the extra importance given to Verma. On the other hand, Verma is apprehensive of internal sabotage against his son, and has thus chosen to target the MP

.

If any one leaves his samaj (society) and becomes a chamcha of congress, he goes alone for personal benefits, but the samaj will not go with him.
Porn row will hit BJP in Uttar Pradesh
Developments in Gujarat and Karnataka will damage the BJP's prospects in the Uttar Pradesh Assembly elections as it came in the middle of the electoral battle.
This has disillusioned upper castes in UP.
Narendra Modi has to step down following Gujarat high court's judgment censuring the state government for 'inaction and negligence' during the 2002 post-Godhra riots and holding that this had resulted in an 'anarchic' situation.
After this observation of Gujarat high court, Modi has lost all moral rights to continue as the chief minister. He should step down immediately.
BJP leaders identified with the dubious moneymaking business, their association with the mining scam in Karnataka, Dilip Singh Judev's famous statement "paisa khuda to nahi, lekin khuda ki kasam, khuda se kam bhi nahi hota", Bangaru Laxman taking money and admitting the scam tainted Babu Singh Kushwaha.
The porn clip controversy in Karnataka Assembly
,it has lowered the image of politics and politicians and the incident showed the 'hiatus' between preaching and practice by the BJP.
Talking ramayana but breaking perumal koil
To watch this kind of obscene video in the legislative Assembly is in a way lowering the image of politics and politicians. Respect for politicians is falling due to these very reasons. It looks BJP does not want to leave even one facet of corruption. This is BJP's real face.
We do have candidates from criminal background – BJP
Knowing BJP will fall short of the majority mark in the upcoming polls, its leader Uma Bharathi's hip is already injured. She cannot even reach River Saryu with her wheel chair to get drowned after the results. And Nithin Gatkari's stage collapsed. These are the signs of total collapse of BJP with the MP and MLAs watching pornography and Karnataka State Tourism arranging for Rave parties to the tourists in Udupi

to create a Goa competing with the Congress. These are the developments they are talking about called 'Vision 2020'.
BJP

a supermarket of corruption, pornography and misgovernance.The entire spectrum of immorality and corruption can be found under one roof of BJP's supermarket... If you want to go shopping for corruption, pornography, spectacle of loss of lives and properties and misgovernance, BJP is the single window supermarket of corruption.

litany of corruption charges in BJP-ruled states like the land allotment scam in Karnataka, Madhya Pradesh, Gujarat and Uttarakhand as well as the recent porn gate controversy surrounding the three BJP ministers in Karnataka and its inducting the tainted former minister Babulal Kushwaha.
And
he Congress Party house is in such a mess has a lot to answer much.
An intelligent man, even though he is associated with a wise man only for a moment, quickly understands the Dhamma, just as the tongue knows the taste of soup.
'Sarvajan queen' Mayawati will win again in Uttar Pradesh
Lakhs of

people gathered for Chief Minister Mayawati's first election rally in the state.
As her helicopter circles overhead, the waiting crowd gets visibly excited. Many of them stand up and wave their arms, some begin clapping, and leaders of her Bahujan Samaj Party (BSP) begin shouting slogans of "Long live Mayawati"
In this mostly feudal, male-dominated, agrarian state, where caste is the main identity, Mayawati - often called the "Sarvajan queen" - has managed to climb up from the bottom of the social ladder and stay at the top.
In the last assembly elections in 2007, she silenced her critics when her Bahujan Samaj Party (BSP) won 206 seats in the 403-member assembly.
"She is very bold. To emerge as the leader of Uttar Pradesh is no joke," says Prof Ajit Kumar Singh, director of the Giri Institute of Development Studies in Lucknow.
"She has tremendous leadership qualities and organisational capacity. She is a great strategy maker."
She rules over the 200 million plus people of the state - which equals Brazil in population - and is counted among the most powerful women in the world.
As she took on her political rivals in a bombastic speech, accusing them of playing divisive politics for narrow gains, her supporters clapped and cheered enthusiastically.
"Everything she does is like making a statement - she comes surrounded by elite commandos, in huge convoys and flies in a helicopter.
"She is totally unapologetic about her parks and statues, through them she wants to leave a solid impression, she calls them smriti chinhs (signs of the times). She's looking at something that will last at least 300 years."
Her core voter is in tact.
In Amethi, a little township on the edge of Lucknow, the small settlement of SC/STs brushes off any criticism of the chief minister.
"If I have four sons, can I keep them all happy at all times?" asks Rampal Kuril.
For Sonu Verma, the parks and statues are a matter of pride: "She's trying to turn Lucknow into London. People from all over the world come to see the parks."
Says Kuldeep Kumar: "In this state where caste is your identity, we were never treated like human beings. But now we live with our heads held high. whatever she does, we are with her.

"
In a state where politics is at best unpredictable, Mayawati is the first chief minister to complete a full five-year term in power in more than 50 years.

She has improved the lives of Sarvajan i.e., the entire people through welfare projects during her five-year rule.
The Bahujan Samaj Party (BSP), which proved most of poll pundits wrong in 2007 by winning 207 of 403 seats. BSP chief Mayawati was never a media savvy leader – she never gave any interview, did not interact with the media, nor did she address any press conference during her campaign in 2007. She had pooh-poohed all the opinion polls, but never bothered to counter them with any public statements. Instead, she relentlessly worked at the ground level and took a cross section of people into confidence to win her electoral test. There was neither a publicity blitzkrieg nor was there any particular agency to do public relations for her party.
SC/ST

voters were most prominent among those that braved the inclement weather and analysts said more the rain, more advantage to Mayawati

.
Then there is the SC/ST vote, which Mayawati - holds on to firmly along with OBC/Minorities and the poor Upper castes. Mayawati is invoking SC/ST/OBC pride by playing injured at the statues of SC/ST/OBC leaders and the giant stone elephants in her parks being covered by the election commission.
The BSP's appeal to the electorate is based on the Mayawati magic - the party is seeking votes for her as CM. The BSP's SC/ST vote is intact
along with OBC/Minorities and the poor Upper castes.
!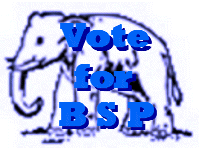 Chief minister of Uttar Pradesh Mayawati gestures as she addresses an election rally at Sitapur, near Lucknow. India's biggest state, Uttar Pradesh, will be choosing its state assembly in elections starting next week.
Chief minister of Uttar Pradesh Mayawati before addressing an election rally at Sitapur, near Lucknow. India's biggest state, Uttar Pradesh, will be choosing its state assembly in elections starting next week. AP Photo/Saurabh Das
Crowd waves to Uttar Pradesh chief minister Mayawati during BSP public meeting at Sitapur. India's biggest state, Uttar Pradesh, goes to the polls from February 8
No other Opposition Party in Uttar Pradesh could muster lakhs of people like BSP for their their Rallies. They depend on the Kulaveri Gothraveri media
Supporters jubilate as they attend an election campaign rally of chief minister of the northern Indian state of Uttar Pradesh Mayawati in Sitapur some 85kms northwest of Lucknow on Feburary 1, 2012. The voting in the states of Manipur, Uttar Pradesh, Uttarakhand, Punjab and Goa is being staggered through February and early March with the results to be announced in early March.
Supporters listen a speech by Uttar Pradesh chief minister Mayawati during an election campaign rally in Sitapur, some 85kms northwest of Lucknow.
Uttar Pradesh chief minister and BSP supremo Mayawati waves to crowd during an election rally in Barabanki. The state goes to the polls from February 8


Ms Mayawati has done a lot during her four terms as chief minister to develop the state, especially in rural areas to the entire people.

Hon'ble Chief

Minister, Uttar Pradesh

Led Government's four-year term

And the best in the
sphere of

"Law & Order and
Crime Control"

"Development and Public Welfare"

Important and Historic Steps

pertaining to Development and Public Welfare

·




Hon'ble

Ms. Mayawati Ji-led government formed on 13 May, 2007 in Uttar Pradesh, after its four-year term, has kindled a new ray of

"bright" future among the general public in the State, especially the SC/STs,

backwards, religious minorities and upper-caste poor in respect of law and order and crime control together with development and public welfare activities.

This

very government, by pursuing the path shown by great saints, gurus

and seers born in backward classes, especially

Mahtma Jotiba

Phule, Chhatrapati Shahuji Maharaj, Shri Narayana Guru, Baba Saheb

Dr. Bhimrao Ambedkar and Manyawar Shri Kanshiram Ji

in development

and public welfare activities with government following the

policy of

"Sarvajan Hitay – Sarvajan Sukhay".

·




Besides, to honour these backward-born great "Saints, Gurus and Seers",

various magnificent spots, memorials, museums, parks, etc have

been

constructed in the state, on which the total budgeted government

amount

spent is even less than 1%; the remaining funds having spent on

law

and order, crime control, development and public welfare

activities.

·




In the last four years, the central government did not release on time its

share payable to the state totalling Rs. 21,385 crore. If this

amount had

been paid by the centre in time, achievements of the state

government

could have been far far better.

·




Not only this, the

"special economic package'

of Rs. 80,000 crore

sought from the central government for the total development of

the state,

especially Bundelkhand and Poorvanchal in view of the poor and

pitiable

economic conditions inherited from the previous governments, no

money

was received from the central government at all.

·




Thereafter, under government's new development strategy several

major projects /schemes on the PPP-model, like the

Ganga Express-way,

Yamuna Express-way and Upper Ganga canal

were prepared to spur

development in the state in which no central investments were

involved

except a departmental 'no objection ' from them; the centre,

however, did

not cooperate even in this matter.

·




And yet, with

" correct mobilization of resources and improved financial

management"

the state government generated an atmosphere

Development, notable achievements of which are enumerated below:

NOTE-1-Since the formation, in 1995 of the first government of Hon'ble Chief

Minister Ms. Mayawati Ji in Uttar Pradesh, its priority has been the total development of the poor and the backward SC/ST, other backward classes,Religious minorities and disables persons-who had remained neglected for centuries and during earlier governments. By separately creating Uttar Pradesh Welfare Department and other ministries, there has been considerable improvements in their condition at every level and

\ every sphere

.

1.

This government in the last four years has undertaken several activities at a total cost of Rs. 37,000 crore (Rs. 36,795 crore), outlay of 21.21 and 100% expenditure on the development of "SC/ST" under special component plan which are chiefly – increase in the rate of post matric for (Scheduled Castes), eligibility level of income increased from 1lakh to Rs.2 lakh,, scholarships fora all students (girls and boys) from class 1 to 8, establishment of 'bhagidari bhavan' at Lucknow and Agra, including Training institutes at Aligarh and Rae Bareli to coach SC/ST youth for recruitment to high-level services like I.A.S and P.C.S; recruitment in Government posts through a drive to clear the backlog; for the first time Reservation in contracts upto Rs.25 lakh for SC/ST, so far, contracts worth Rs.1,623 crore allotted; about 4 lakh S/C families allotted more Than 3,500 hectares of land.; 16 Mahamaya Polytechnics for Information Technology set up for these categories of students; regularisation of Landless SC/ST people in possession of gram sabah land upto13May, 2007;

formal right of possession letters (pattas) awarded to 9,431 persons; about 3000 genuine lease-holders benefited by removing illegal usurpers from their land; creation of employment totalling 5,945 lakh man- days for men and 2,089 lakh for women belonging to SC/ST classes created in rural areas; about 8 lakh S/C families benefited by writing-off debts amounting to Rs.120.28 crore of Uttar Pradesh SC/ST Development Corporation; electrification on large-scale of SC/ST bustees /majras and appointment of 23% from these classes only of SOs in police stations; provision of reservation also in state government-aided private enterprises; allotment of more than 4,000 fair price shops; together with the establishment of a Rs.100 crore

"leather park and shoe mandi":

in Agra, exemption from VAT

of Agra Footwear Industry.

2.

"Other Backward Classes"

– in the last four years 2 lakh landless people

allotted lease of about 50,000 hectares of agricultural land;

effective

implementation of 27% reservation for OBSc in the allotment of

fair price

shops in the urban and rural areas under the public distribution

system;

computerisation of the entire procedure of scholarship under

the

backward classes Welfare department; more than 50 lakh students

(girls

and boys) benefites by scholarships under the scheme of aid to

the poor

families of backward classes on account of marriage and illness

about Rs.50 crore spent every year; apart from increasing the

"creamy layer" annual income limit of these classes from Rs.3 lakh Rs.5lakh,

about

Rs.250 crore spent to reimburse the admission fees of students

studying in post matric classes.]

3.

In the matter of

Religious Minorities especially the Muslim community, mention may be made of the establishment of Manyawar Shri Kanshiram Ji Urdu, Arabic-Persian University; inclusion of 10 new Arabic-Persian Madrasas in the grant-in-aid list; as much as 486.73 crore approx, on account of scholarships to 1,28,35,824 minority students (girls and boys); elegibilty income limit for scholarships increased to Rs.1 lakh in respect of, minority students; grant of Rs. 3,745 lakh for the marriage of 37,445 daughters from minority BPL families; reimbursement of fees amounting to Rs.2,049 lakh of 49,166 post matric students; construction of well-equipped

"Haj Houses"

at Ghaziabad and Lucknow for the convenience of the Hajis; "direct Haj flight" from Varanasi to Jeddah; abolition of the pre-condition of police verification in the appointment of

"Mutawallis"; arrangement of advance coaching to prepare for competitive recruitment examinations; the amount of grant for Uttar Pradesh Urdu Academy more than doubled to Rs.3 crore; establishment of

58 government secondary schools

in minority-dominated areas of 22 selected districts as well as mformation of a commission to provide the atatus of minority institution to 'taleemi idaar' (educational institutions) besides, the distribution of Manyawar Shri Kanshiram Ji Handloom Weavers awards.

4.

"Disabled"

– establishment of

'Uttar Pradeesh Dr. Shakuntala Misra Rehabilation University'

at a cost of Rs.400 crore to provide quality

education to the differently-abled students; with 1% reservation

for the

visually impaired and 2% other disabled, so far, 677 an

d 1320fair shops

allotted, respectively; disabled pension rate increased to

Rs.300 per

month from Rs.150- the total number of disabled pensioner

during 2009-10 increased to 708077.

5.

Several welfare schemes implemented for Sarv-Samaj

"women"

also,

notable being amendment of the zamindari kanoon to ensure

equitable

share of women in patriarchal landed property; the amount of

dole for

destitute women increased to Rs.300 per month from Rs.150 apart

from

construction of shelter homes etc for them in Mathurs and

Vrindavan; "alertness and sensitivity"

on the part of government has resulted in considerable

"decline"

of criminal cases against "women".

NOTE-II- In addition, many significant and historic steps wre taken for the uplift of the poor and the helpless belonging to sarv-samaj besides,

Farmers, labourers, lawyers, employees, traders and people engaged in other professions, with all government departments also contributing to the development of the people of the state viz.:

1.

Uttar Pradesh Mukhyamantri Mahamaya Gharib Arthik Madad

Yojna benefits about 31 lakh families in Uttar Pradeshwhich have not been able to avail of the benefits of the BPL list or antyodaya, by providing an assistance of Rs.400 per month.

2.

Savitribai Phule Shiksha Madad Yojna

benefitted a total of 6,86,953 girl students, so far, with Rs.15,000 and a bicycle given to class 10 students and an additional assistance of Rs.10,000 on promotion to class 12.

3.

Mahamaya Gharib Balika Ashirwad Yojna

provides for Rs.1lakh to be given to the girl child immediately on birth, which has benefitted about 3,25,000 girl children.

4.

Dr. Ambedkar Gram Sabha Samagra Vikas

Yojna benefitted abount 5,598 gram sabhas.

5.

Manyawar Shri Kanshiram Ji Sheri Gharib Awas Yojna

provides for free housing facilities, benefiting about 1lakh families.

6.

Sarvjan Hitay Gharib Awas (Slum Area) Maliqana Haq Yojna benefited about 7,232 families.

7.

BPL card-holders of Sarv-samaj and beneficiaries of Mahamaya Gharib Arthik Madad Yojna

being provided free of charge legal aid by government lawyers to plead their cases in courts.

8.

Under

Manyawar Shri Kanshiram Ji Sheri SC/ST Bssti Samagra Vikas Yojna,

250 bustees selected for development.

9.

Lease-hold of 55,000 hectares of agricultural land for about 2.5 lakh poor and unemployed landless people.

10.

About

"3.5 lakh families"

allotted residential plots measuring 3,500 hectares.

11.

Allotment of 30,000 hectares of land to about 36,000 agriculturists.

12.

16,000 sites allotted to 19,000 people engaged in the pottery craft.

13.

Allotment of 12,000 hectares of land for free plantation to 42,000 farmers.

14.

Insurance provided to 18,67,835 heads of families under the General Public Insurance Scheme.

15.

Under the

enforced Uttar Oradesh Janhit Guarantee Quanoon

13 essential services relating to revenue, urban development, medical and food and supply guaranteed within a specified time limit.

16.

Brilliant BPL students (girls and boys) of the newly established Gautam Buddha University belonging to sarv-samaj sent to Europe for higher studies on state expenses.

17.

The maximum sickness allowance increased from Rs.2,000 to 5,000 in the case of S/S and those eligible from the general category.

18.

The amount of grant-in-aid doubled in the event of marriage/sickness in Bundelkhand.

19.

As many as 897 child development projects under operation.

20.

Daily wages of

"labourers/wage earners"

of unorganised sector increased to Rs.100 from Rs.58.

21.

More than 18 lakh government employees in the state provided benefit of the sixth pay commission, causing an additional financial burden of Rs.21,000 crore.

22.

As many as 35,000 daily wage employees, appointed till 29 June, 1991 regularised.

23.

Generation of 10,586 lakh man days in the rural areas at a cost of Rs. 16,995 crore.

24.

Self-employment made available to 13.58 lakh families with a grant of Rs.800 crore.

25.

Recruitment of 1.9 lakh 'safai-workers (Aroghya Rakshaks)" in the state in one go besides, 88,000 primary school teachers, 5,000 Urdu teachers and massive recruitment in other departments together with employment opportunities provided to

"lakhs"

of people in non-governmental sectors as well.

26.

Infrastructural Development:

construction of 165 Km long, 6-lane Yamuna express-way at a cost of Rs. 9,935 crore between Noida and Agra

.

27.

Rs.30,000 crore –construction project of 1,047 Km long, 8-lane entry controlled express-way from Greater Noida to Ballia.

28.

Costing Rs. 8,911 crore, 148-km long Sanauta-Purkazi Express-way project along the upper Ganga canal bank.

29.

In the Taj city, Agra, construction of a 20.5 km long 6-lane ring road at a cost of Rs.1,100 crore.

30.

30.

Delhi-Noida-Greater Noida Metro Rail Link, first phase, from Delhi to Noida completed.

31.

PPP process activated to establish ab international airport at Kushinagar for the development of Buddhist circuit.

32.

Energy development;

with an amount of Rs. 28,796 crore incurred by the government led by the Hon'ble Chief Minister Ms. Mayawati Ji, a "new trust" born among the general public to meet its electricity needs, during its four-year term,; the government seriously engaged at the ground level about its promise to offer 24-hourelectricity by 2014, Begining of about 30,000 MW new projects. Investment of Rs. 1,20,000 crore. In the field of transmission, thye largest ever investment of Rs.10,000 crore through PPP in the country.

33.

Road construction –

construction/reconstruction of more than 50,000 km long roads with an expenditure of about Rs.9000 crore.

34.

About 13,000 km long CC roads and KC drains constructed in 5,480 gram sabhas/villages at a cost of Rs. 3,569 crore.

35.

Construction of 319 bridges at a cost of Rs.1,369 crore as well as 16 over-bridges, entailinf an expenditure of Rs.363crore.

36.

Irrigation –

Strengthening of irrigation works/activities at a cost of Rs.22,097 crore.

37.

Additional irrigation capacity of about 1.5 lakh hectares generated with the construction of 2,975 tube wells.

38.

Tail-feeding of more than 9,000 canals ensured.

39.

Irrigation arrangement of 32 lakh hectares of land.

40.

Agriculture and Allied services –

about Rs. 19,50 crore spent in the last four years.

41.

Drive to bouble the income of the farmers.

42.

Weather-based crop insurance scheme started.

43.

Rain water storage project in Bundelkhand.

44.

Unprecedented increase in sugarcane price (SAP).

45.

Uttar Pradesh tops the country in milk production.

46.

Dr.Ambedkar Agricultural Improvement Scheme of feeder separation for uninterrupted power supply to farmers.

47.

Establishment of new agricultural university in Banda.

48.

Education and Sports Development –

about 65,000 crore (Rs.64,997 Crore) were spent on account of education in the last four years.

49.

As many as 12,160 new senior primary schools and 4,654 new primary schools established.

50.

13 private universities established.

51.

Manyawar Shri Kanshiram Ji Research Chair established in 6 universities.

52.

As many as 41 new government polytechnics set up.

53.

In Gautambuddha Nagar, a second technical university established under the name of Mahamaya Technical University.

54.

Commencement of 'Manyawar Shri Kanshiram Ji Kala Samman Puraskar' and Sant Ravidas Kala Samman Puraskar'.

55.

Medical and Health services –

About 22,000 crore (Rs 22,190 crore) spent in the last four years.

56.

Decision to operate medical colleges in Kannauj, Jalaun and Saharanpur districts as wellas a para-medical college in Jhansi.

57.

Decision to open state of the art super specialty 500-bed hospital with participation of private sector, costing around 140-150 crore each in Lucknow, Agra, Jalaun, Bijnur, Azamgarh, Ambedkar Nagar. And Saharanpur.

58.

For the first time in the country a separate unani directorate established by

Uttar Pradesh.

59.

Urban Development –

About Rs.13,156 crore spent on account of housing and urban development as wellas Rs. 4,090 crore spent on hygene and cleanliness schemes.

60.

Projects worth about Rs.8,000 crore completed in Kanpur, Lucknow, Agra, Varanasi, Meerut, Allahabad and Mathura on development of urban infrastructural facilities and providing housing to the poor besides, fulfilling their basic needs.

61.

Provision of about Rs.1,000 crore for drinking water projects in 7 metropolitan towns. Completion of projects of Rs.400 crore in other 37 towns and plying of 1,310 modern buses started.

62.

Implementation of solid waste management schemes in 26 cities.

In additionto the above, the government has, through other departments , taken several important and notable decisions, a detailed account of which is given in a government published listing its achievements of four years.

In order to see for herself the ground reality of the activities stated in the booklet, the Hon'ble Chief Minister, Ms Mayawati Ji, from 1st February, 2011 to 2nd

March 2011 i.e., for full one month, made surprise inspections to take stock of law and order situation and creime control in all the 72 districts, together with development and public welfare activities, with strict action taken against authorities, if anything wanting was detected. Necessary directions and guidance for improvement were also given.

In a nutshell, the four years of the Uttar Pradesh Chief Minister Hon'ble Ms Mayawati Ji led government has been

" highly promising and the best" in the area of

"development and public welfare"

Every policy of Uttar Pradesh Govt. is based on

'Sarvajan Hitay – Sarvajan Sukhay'

Important and Historic Initiative for Law & Order and Crime Control

1.

Since the formation of the present government in Uttar Pradesh, on 13 May, 2007 till date, an Unprecedented environment of "peace and order and communal harmony, free from injustice, crime and fear" has been created by giving "top priority" to "law-order and crime control" for which several important decisions had to be taken with iron resolve at the different levels e.g:

2.

Rigorous and effective action taken against more than 1 lakh known notorious criminals/Mafiosi.

3.

1.707 notorious criminals detained under the most stringent "National Security Act (NSA)".

4.

Strict action taken under the "Gangster Act" against about 40,000 professional offenders.

5.

A total of 8.013 notorious delequents, carrying reward on their heads, were arrested, including those "carrying on the head a reward" upto Rs.5 lakh.

6.

Another 374 notorious criminals carrying reward, between Rs.50,000 – Rs. 5,00,000 were "killed" by the police in self defense.

7.

Also, thousands of anti-social elements/goondas and white-collar criminals were sent to their right place i.e. behind the bars in the "jail".

8.

For the first in the state, action was also taken against " influencial people and those occupying high positions" found guilty of breaching the law, establishing the motto "all wequal before the law" under which several ministers, ex-ministers, MPs and legislators were proceeded against leagally with due strictness

.

9.

"Historic action" continues, without let or hinderance, against arrant criminals and Mafiosi to "confisticat their ill-gotten wealth" in order to break the economic backbone. Property worth more than Rs. 443 crore forfeited so far.

10.

Elimination of fierce dacoits – synonymous of terror, Rs. 5 lakh rewardee bandit chief Shivakumar alias Dadua, Ambika Patel i.e. Thokia, Mussafir Yadav, carrying a reward of Rs.2lakh from Bihar State and Santosh alias Kittu Gupta with a reward of Rs. 1.5 lakh besides, several other offenders carrying rewards between Rs. 1 lakh and Rs. 50,000 were killed by police in encounters inself-defence.

11.

In the terrorist attack on CRPF group centre at Rampur by 4 terrorists of HUJI – Harqat UI Jehad Al Islami as well as an active member of Khalistan Zindabad Force (KZF) together with ISI agents were also apprehended.

12.

Noor Baksh, a shooter belonging to the gang of international criminal, Dawood Ibrahim was shot daed while trying to escape from police custody.

13.

To secure justice to prosecuted people under the previous government, 10,000 cases filed through a "special campaign" and action taken against 31,136 persons. "Legal" action also initiated against those trying to register "fake" reports.

14.

The area of 'jungle raj', goonda tax, 'mafia rule' and 'anarchy' inherited in legacy, ends, entirely due to the "missionary and struggling" efforts of Hon'ble Chief Ninister Ms. Mayawati JI. People, coming out of the suffocating "jungle raj", breathing in, today, the wiff of fresh air of the "rule of law by law".

15.

The result of such strict action was that an environment of " communal harmony" continued to exist and no untoward incident occurred in the whole of the state, in light of the court decision on the very sensitive Ram Janmbhoomi/Babri Masjid "case". The peaceful conditions prevailed in Uttar Pradesh, there was calm and quiet in other states of the country as well.

16.

So also Common Wealth Games 2010, three-tier panchayat elections, Mahakumbh fair, Haridwar-2010, Allahabad Magh Mela-2011 passed off peacefully. Lok Sabha-2009 general elections were also conducted without violence, with peace and impartiality.

17.

In order to ensure "justice" to the general public and create "trust" towards the law and order system in them,strict instructions issued to record the First Information Report (FIR) in the thanas from victimized persons without the slightest difficulties

18.

Instructions to all district, division and tehsil level authorities to be available to the people, as a must in their offices from 10 to 12 in thye morning.

19.

Observance of "thana divwas" on every 1st and 3rd

Saturdsy of the month with the object of taking effective
action against victimization of poor people of the sarv-samaj.

20.

As a result of these special efforts made by the government, remarkable "decline" in the rate of all kinds of crime against "SC/ST" in the state. Eqally notable has been the percentage of disposal of crime enquiries which stands at 92.

21.

Appointment of a special public prosecutor" for prosecution of cases under the SC/ST Prevention of Atrocities Act.

22.

"Considerable reduction" in incidence of all crimes against "women" in the state.

23.

The percentage of action was 94.1, last year against those accused of crime against "women" and 91.9 of cases disposed of, which is a "record" in itself. Consequently, the rate of crime against women in Uttar Pradesh is much less than even the national average.

24.

The effort to secure "justice" in every matter and at every level

to every segment of the society and the sarv-samaj, the poor people, farmers, labourers, businessmen, lawyers, service-class and non-service-class people as also students in accordance with the policy of "Sarvajan Hitay Sarvajan Sukhay".

25.

Together with the arrest of more than two dozen hard core naxalites, a strategy of "tatal development (samagra vikas)" in identified areas adopted in order to deal with the "naxal" problem so that a feeling of trust towards the administration in kindled in the public psyche in the affected areas and they do not go astray. Efforts to provide the various basic amenities under Dr. Ambedkar gram sabha yojns to the 423 naxal affected villages.

26.

Many important and historic decisions taken to establish "rule of the law by law" in the state

in order to "modernize and strengthen to make the police administration alert and vigilant".

27.

More than double the increase in police budget with about Rs. 7,740 crore sanctioned. For the first time in Uttar Pradesh a service manual for different sections of the police force promulgated.

28.

Formation of "Uttar Pradesh Police Recruitment Board" for transparency in view of complaints of corruption in police recruitment.

29.

In a "historic" decision about 2.04 lakh new posts for policemen created, in one stroke. Already 35,000 constables selected in a transparent procedure – a step which has been praised at the national also.

30.

Constitution of two new zones Viz. "Poorvanchal and western Uttar Pradesh" to further strengthen the "Special Task Force (STF)".

31.

"National Capital Police Zone" formed for effective control over law and order and crime control in western Uttar Pradesh.

32.

Establishment of "women police stations (mahila Thana)" in all districts together with "mahila helpline", "family planning Centre" and "mahila sahayta prakoshtha" at the state level.

33.

"Anti-Terrorist Squad (ATS)" set up in November, 2007 itself.

34.

"SIT" constituted to investigate serious economic offences.

35.

For proper security and up keep of the newly constructed sites/memorials

etc
formation of "Uttar Pradesh Police Special Zone Security Battalian" under which 1,233 new posts created.

36.

"state level committee constituted" inder the chairmanship of Director General, police to prevent circulation of"counterfeit / fake currency notes".

37.

Sevearl proposals for necessary cooperation pending with the centre about inclusion of naxal-affected districts into "focus" districts under the "integrated development plan" for development of the local surroundings and modernization of the police.

Apart from these, many more important steps were taken, a detailed account of which is given in a booklet published by the government, highlighting its achievements during the last four years.

In brief, to get the correct feel of ground realities, the Hon'ble Chief minisre Ms. Mayawati Ji herself made surprise inspections of "Law-order and crime control:, for one full month i.e. from 1 February – 2 March, 2011, visiting police stations in all the 72 districts in the state,taking strong action against authorities found wanting in performance and issuing guidelines for improvement.

Every policy of Uttar Pradesh Govt. is based on

'Sarvajan Hitay – Sarvajan Sukhay'
!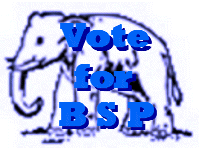 The first phase of the assembly elections on Wednesday (February 8) in 55 constituencies across ten districts in Central UP and a part of the Terai region would witness a key contest between the BSP and the rest who are under estimating BSP thatis going to win 303 seats.
The BSP swept the 2007 assembly elections here
.
The ten districts going to poll include Sitapur, Barabanki, Faizabad, Ambedkarnagar, Bahraich, Shravasti, Balrampur, Gonda, Sidharthnagar and Basti. It's mainly an agricultural region. Over 80% people are dependent on the rural economy.
The SC/ST population in the ten districts is between 17-30
The BSP has fielded 14 Muslim candidates
.
In the 2007 assembly elections, the BSP won 30
.Now it will win 42 seats.
Stalwarts from other parties in the fray include three ministers in Mayawati's government - Lalji Verma from Katehari in Ambedkarnagar, Ramhet Bharti from Hargaon in Sirapur and Sangram Singh Verma from the Barabanki constituency in Barabanki district. Sanjay Rajbhar, son of Ram Achal Rajbhar, also a minister in the BSP government, is contesting from Akbarpur in Ambedkarnagar
Total seats: 55
Total electorate: 1.70 crore
Total candidates: 862 (Men 796, women 65, others 1)
Total poling stations: 17,621
Central forces to be deployed: 675 companies
Police personnel to be deployed: 33,000
Home Gaurds to be deployed: 41,000
Sensitive pooling booths: Faizabad - 230, Sitapur 220, Bahriach - 160, Gonda - 150, Ambedkarnagar - 120, Balrampur - 90 and Shravasti - 40.
Knowing BJP will fall short of the majority mark in the upcoming polls, its leader Uma Bharathi's hip is already injured. She cannot even reach River Saryu with her wheel chair to get drowned after the results. And Nithin Gatkari's stage collapsed. These are the signs of total collapse of BJP with the MP and MLAs watching pornography and Karnataka State Tourism arranging for Rave parties to the tourists in Udupi

to create a Goa competing with the Congress. These are the developments they are talking about.

Talking ramayana and breaking perumal koil.
"There is no engineering or medical college here. In the adjoining Ambedkar Nagar, the local students are studying in a government medical college and an engineering college, which were opened in recent years. But our MLA is least bothered. The BJP raises the same old slogan every time."
So deep is the disillusionment with the party in its bastion that when its former national organisational general secretary Sanjay Joshi held a meeting of Sangh members in Ayodhya last week to galvanise them in support of the BJP candidate, a youth stood up and said, "Forget Ayodhya issue, there is a wave for change in this election."
Taken aback, Joshi's feeble response was: "The honour of Lord Ram is at stake. I also request you to save the honour of the party."
An RSS worker cited another instance to stress why even loyalists want a "change". He said: "When some RSS youths, who run the Vanwasi Vidyalay in the Bahadurganj area of Ayodhya, went to BJP MLA Lallu Singh last Wednesday, he refused to give any financial assistance. When this matter was raised before Joshi, he kept silent."
Khaliq Ahmed Khan, a member of Babri Masjid Action Committee said: "The Hindus and the Muslims of Ayodhya have suffered a lot due to these politicians. The BJP won all five seats of Faizabad - Ayodhya, Bikapur, Sohawal, Rudauli and Milkipur - in 1991. In the next polls, the party won only Ayodhya and Rudauli. Now it has only Ayodhya, which too is going to slip out of its hands in this election."
The BJP appears unable to accept the reality. And even if it is aware of the ground situation, it has no other option. With no development to show in almost two decades, raking up the temple issue is its compulsion.
This is perhaps why the party manifesto promises to "clear all the hurdles on the way to construction of a Ram temple". But even hardcore saffron workers are taking the promise with a pinch of salt. RSS functionary Ram Prakash Gupta said: "The matter is pending in the court. There is no point raising the temple issue at this stage."
HC issues notice to TV channels over exit polls
The Allahabad high court on Wednesday issued show cause notice to two news channels for allegedly broadcasting results of exit polls despite restrictions on the same having been imposed by the Election Commission in view of the assembly elections in Uttar Pradesh. The order was passed by
Indian Supreme Court Telecom Decision Deals Blow to Government
In a serious blow to India's ruling Congress party, the country's Supreme Court has ordered Thursday the cancellation of 122 telecommunications licenses at the heart of what many see as one of the biggest scandals to hit the country. The Indian government issued the licenses to mobile phone companies in 2008.

India's former Telecommunications Minister A. Raja, who brokered the sale of those licenses to eight different companies, is in jail. He faces accusations of taking bribes and selling the licenses for less than market value, possibly costing the government up to $40 billion in lost revenue.

Prashant Bhushan, a co-petitioner in the case to have the licenses revoked, hails the Supreme Court decision as "historic."

"Now these companies which were the beneficiaries of these illegal licenses given in this dishonest manner will have to effectively refund the benefit that they got out of these illegal licenses," said Bhushan.

The court's view that the licenses were granted in an "arbitrary and unconstitutional manner" is the latest in a string of public embarrassments for India's ruling Congress Party. The 2G mobile licenses scandal has become the driving force behind accusations that Prime Minister Manmohan Singh has been unable or unwilling to contain corruption.

"The system has shown its strength," said Arun Jaitley, a leader of India's main political opposition, the Bharatiya Janata Party. "The system has now hit back. and while hitting back, the kind of repercussions are going to be earth shaking."

Political opponents of Prime Minister Singh are calling for the resignation of current Telecommunications Minister Kapil Sibal, as well as Home Minister P. Chidambaram, who was finance minister when the licenses were sold.

Sibal has continually defended Chidambaram and the prime minister, saying his predecessor in the telecommunications ministry was acting on his own.

"The prime minister was in no way responsible. Nor was the finance minister in any way responsible for whatever happened and whatever was done by the then-minister," said Sibal.

Political analyst Prem Shankar Jha says Prime Minister Singh needs to respond personally to Thursday's verdict.

"The prime minister cannot shift this burden. His reaction must be clear, sharp and immediate. This is what has been lacking throughout the last seven and a half years," said Jha.

Indian telecommunications officials say Thursday's Supreme Court decision is only likely to affect about five percent of the country's mobile phone users. New licenses are to be auctioned in four months
MAY YOU BE EVER HAPPY, WELL AND SECURE
MAY YOU LIVE LONG
MAY ALL SENTIENT AND NON-SENTIENT BEINGS BE EVER HAPPY
MAY YOU ALWAYS HAVE CALM, QUIET, ALERT,ATTENTIVE AND
EQUANIMITY MIND WITH A CLEAR UNDERSTANDING THAT
EVERYTHING IS CHANGING
---
From:
Siddhartha Kumar <mailsiddhartha.k@gmail.com>
To:
zestcaste <zestcaste@yahoogroups.com>
Sent:
Thursday, 9 February 2012 5:52 PM
Subject:
[ZESTCaste] Rahul gandhi says those who say caste doesnt matter, haven't been to UP
http://175.41.149.208/mobile/report.php?n=1645697
Seeking a true game changer
Sunetra Choudhury
February 4, 10:30 IST
You seriously don't know what caste you are or do you choose to ignore
it for ideological reasons?" I recently asked the man I have been
married to for almost a decade. It's not that I didn't know the answer
to that question, but it's just that seeing Sam Pitroda emerge as an
OBC icon for the Congress during the Uttar Pradesh elections had put
me in an incredulous mode. As I saw him standing there at a Lucknow
election meeting, releasing the Congress manifesto and reiterating the
hidden fact that he was from a backward caste of carpentars or barahi,
I wondered whether an entire generation of us had been fooled into
believing that caste doesn't matter.
I guess, like everything else, you can blame it on idealistic
parenting. Unlike my husband, my brother and I knew very well our
caste antecedents but it was only to embellish a very romantic story.
When we were growing up, my mother would love to tell us the story of
how my father's Brahmin family had some misgivings about his intention
to marry a Kayastha girl. She portrayed this James Dean kind of
character, but the truth is that it was nothing major and basically
meant that the family made some cursory noise and instead of having
the wedding at his parents' house, their reception was at his
sister's. And that was the end of the big fuss, but we were encouraged
by our mother to imagine a Hindi film scenario where my father waged a
caste battle to marry the woman of his choice.
That is the only reason caste entered our world view, and even though
we were both old enough to register the Mandal agitation, it never
became a tangible factor in either of our lives, or in those of our
friends. So when I wanted to get married to a man of indeterminate
caste, I was deprived of all drama by my parents. It was simply a
non-issue.
Till I thought about the entire thing this week. I thought about all
the rallies that I, on the Rahul Gandhi beat, had attended, and all
the speeches I had been forced to hear over and over again about
development and change and the new India that was emerging. I wondered
if there had been a subtext of caste that I had missed out on all
along and whether the talk of development was all a front. I knew that
Rahul Gandhi marked his entry into UP politics by visiting Dalit
homes, but it wasn't until the Sam Pitroda caste expose that I
realised how exploitative it was.
------------------------------------
----
INFORMATION OVERLOAD?
Get all ZESTCaste mails sent out in a span of 24 hours in a single mail. Subscribe to the daily digest version by sending a blank mail to
ZESTMedia-digest@yahoogroups.com
, OR, if you have a Yahoo! Id, change your settings at
http://groups.yahoo.com/group/ZESTMedia/join/
PARTICIPATE:-
On this list you can share caste news, discuss caste issues and network with like-minded anti-caste people from across India and the world. Just write to
zestcaste@yahoogroups.com
TELL FRIENDS TO SIGN UP:-
If you got this mail as a forward, subscribe to ZESTCaste by sending a blank mail to
ZESTCaste-subscribe@yahoogroups.com
OR, if you have a Yahoo! ID, by visiting
http://groups.yahoo.com/group/ZESTCaste/join/
Also have a look at our sister list, ZESTMedia:
http://groups.yahoo.com/group/ZESTMedia/Yahoo
! Groups Links
<*> To visit your group on the web, go to:
http://groups.yahoo.com/group/ZESTCaste/
<*> Your email settings:
Individual Email | Traditional
<*> To change settings online go to:
http://groups.yahoo.com/group/ZESTCaste/join
(Yahoo! ID required)
<*> To change settings via email:
ZESTCaste-digest@yahoogroups.com
ZESTCaste-fullfeatured@yahoogroups.com
<*> To unsubscribe from this group, send an email to:
ZESTCaste-unsubscribe@yahoogroups.com
<*> Your use of Yahoo! Groups is subject to:
http://docs.yahoo.com/info/terms/
__._,_.___
----
INFORMATION OVERLOAD?
Get all ZESTCaste mails sent out in a span of 24 hours in a single mail. Subscribe to the daily digest version by sending a blank mail to ZESTMedia-digest@yahoogroups.com, OR, if you have a Yahoo! Id, change your settings at
http://groups.yahoo.com/group/ZESTMedia/join/
PARTICIPATE:-
On this list you can share caste news, discuss caste issues and network with like-minded anti-caste people from across India and the world. Just write to zestcaste@yahoogroups.com
TELL FRIENDS TO SIGN UP:-
If you got this mail as a forward, subscribe to ZESTCaste by sending a blank mail to ZESTCaste-subscribe@yahoogroups.com OR, if you have a Yahoo! ID, by visiting
http://groups.yahoo.com/group/ZESTCaste/join/
Also have a look at our sister list, ZESTMedia:
http://groups.yahoo.com/group/ZESTMedia/
.
__,_._,___